Sunday
I got a little more digi-scrapping done today. I had hoped to do some "regular" scrapping, but it didn't happen. I'll probably have more to post - but if not, here's a couple new offerings.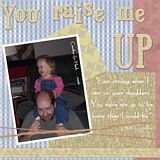 I said in the comments about this layout that I'm not really that big a fan of "You Raise Me Up," and I can't explain why. The boy has a beautiful voice, and the song is nice. It just doesn't move me to tears, goosebumps, or even dry heaves like other songs do. Give me a good "I Can Only Imagine" (MercyMe) or "Blessed" (Elton John) and I'm toast. BUT, for this picture of Caroline and Mark, it just seemed so appropriate.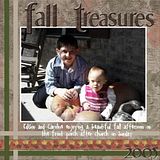 Last fall, we came home from church on one of
those
Sundays where the sky was clear, and the air had a slight chill to it. We had been given some of the coolest (oddest) shaped gourds and pumpkins. I took the opportunity to take some pics of the kids. Sadly, this is the only picture where they're not
squinting
from staring into the sun. Sure, it burns their retinas, but it was for a picture. Come on people, you'd do the same thing in a heartbeat!
Here's a last-minute addition I just finished. I'm sleepy. I leave you with our bathing beauty. . . until next time!!!!