My Mother's Day Parade
I have truly had a Mother's Day like no other. Of course, I had to work. That's a given for a Church Music Director.
But it was after we got home from church that all the magic started happening. Like, for instance:
Driving home from church, we saw leaves and small branches lying around on the road. When we got home this is what we saw: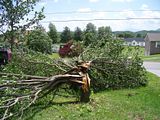 Yep, that's right. We lost our beloved Bradford Pear tree to the east of the driveway. This was a big tree. I'm amazed that it didn't damage the neighbors' cars.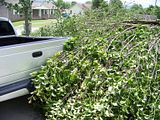 We lost a couple of trees in our old yard a couple of years ago. In May, actually. It's funny. We were talking to our friends who bought the house -- about losing those trees. Little did I know that this tree was down while we were talking.
We really couldn't do anything about it right then. . .so we headed out to Mom & Dad's house for dinner. We were planning to celebrate Mothers Day
plus
a couple family birthdays, at the same time. (Mine is tomorrow; Mom is Wednesday) So, we pulled up at Mom's house. She met us on the porch. They had no power. Obviously the high winds that sent our tree over had damaged a power line somewhere between our house and theirs.
We decided to stay - -because we were going to grill steaks. . . .and the potatoes baking in the oven were nearly done. My salad was already made, and was ready for us, too. Once Dad got home from taking communion to a few of our shut-ins, we'd be set. (Remembering all the while that Mark was mulling the tree that needed to be hacked up, and taken away)
So when Dad got home, we ate. . . and had delicious pie. (My mom makes the best pie crusts EVER -- it really doesn't matter what's in them -- it's the bomb) Coconut Cream and Strawberry were the choices today. Caroline opted for a few strawberries, and then just ate her body weight in sugar-free cool whip. The girl's living a charmed life, really.
Oh, I failed to mention that the power came back on about midway through lunch.
So, we leave fairly hastily after eating and opening presents. . .because again, there's this
tree
in the driveway. . .?
We get home, and put Caroline down for a nap. She's still there -- and actually needs to get up, if we intend for her to actually sleep tonight. But, blogging is important, too. : )
Mark is now working on the tree with our friend Jimmy. Jimmy helped haul away the old trees. Only this time, the tree is much bigger -- and so the method of "removal" (as it were) is slightly different. See?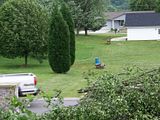 Yeah, that's right. . . they're dragging it down the road. It's my Mother's Day Parade.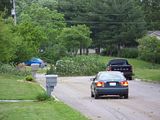 Ah, life in East Tennessee. It truly doesn't get better.
Happy Mother's Day!!!