Nothing LIke a Corny Post. . .
Yeah, I couldn't resist the pun. I did a quick layout tonight. . . Christy came up with a freebie kit called "Raspberry Lemonade." And, I love it. You will definitely be seeing it again in the near future. Fair Warning!
One night last week (can't remember which one) Caroline decided that she wanted corn ON the cob, rather than cut off the cob. We figured why not?! She loves it.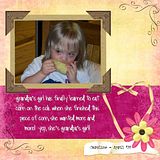 And yes, she IS her Grandpa's girl!