Ridin' the Media Train
. . .but I think the train's just about to pull into the station for the last time. Our local paper just came out with this week's edtion, and they featured a story about Caroline on the front page. The owners/editors are friends of ours from church -- but I firmly believe they would have run the article even without the "connection."
I was asked to write the article to go with the picture of Caroline being featured on Times Square for Down Syndrome Awareness month being kicked off in New York. It was hard to write the article in the third person, but I feel like I did allright.
Mark's cousin Karen and her husband, Andrew drove from Philly to New Jersey - and then took the train into the city, so that they could see Caroline's picture. Unfortunately, taking a picture of a jumbotron is like taking a picture of a computer monitor or TV screen. The pictures they got were fragmented--but we could tell it was Caroline and Jan on the screen. . .and that's all that mattered.
Our local paper took the pictures from Karen & Andrew, and photoshopped in the original picture we submitted. Pretty doggone amazing.
Then tonight, my dear, sweet, and too-talented friend Melany photoshopped the picture into the jumbotron AND photoshopped in Caroline's name on the scrolling LCD screen. She even photoshopped in an ad for Pediasure to replace the Budweiser ad that was originally there on a different version. That Melany is way too cool for school!
So, here's what it looked like on September 17 on Times Square. Of course, the picture is missing the hundreds of Ds families who were there to celebrate our amazing children. And, missing is the photo of our family watching Caroline on the big screen.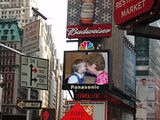 . . . but we'll be there next year -- count on it!