The Long-Awaited Update
Okay. . .
I realize it wasn't that long-awaited. But, it's pretty cool knowing that some of my friends have been asking for pictures and updates from the Buddy Walk.
We had an awesome time. I am still tired, but it was so beneficial for our family and families from all over our area.
Our team "Caroline's Crew" was over 120 people. Lots of t-shirts with her cute little face. . . and lots of hugs and pats on the back. And yes, she walked across the "finish line" with Mommy & Daddy. Pretty emotional day for us all.
Caroline was definitely "on" for the entire afternoon. She was charming, precocious, and generous with waves, hugs and kisses for the masses. She even charmed the socks off of her cardiologist who spent part of the afternoon with us.
I'm inserting a few pictures--these came from our camera. There were lots of other cameras snapping pictures all over the place. I'm certain that there are some better pictures out there. But for now, I hope these give you the "flavor" of the Buddy Walk, and of our team, "Caroline's Crew."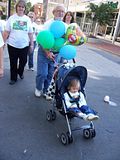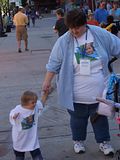 Mind you, the picture of Caroline and me is not the most flattering, but I'm so proud of her, I don't mind. The other photo is Grandpa (my dad) pushing her stroller along the walk. Mark was taking pictures--so sadly, this batch of pictures does not include him.
Oh, and the fundraising totals. . .that's good news, too.
Our family was able to raise over $2,100. And Caroline's Crew raised over $2000. Overall, the Buddy Walk, we believe, brought in about $21,000.
Good day. A very good day.