I Did It!
That's Caroline's new "tag" line for everything she does that she decides needs attention and recognition. At the end of every song she sings by herself --
". . . . the Bible tells me so. I did it!"


It's really precious.

But, I'm having an "I Did It!" moment this afternoon that I want to share with you. No, I didn't lose another 10 pounds. But, I'm really trying to do better these days. Two key elements that are missing:

1) water
2) exercise

When I get a grip on the two of them (so to speak) I'll be posting more positive weight-loss posts. Sigh.

I wanted to share pictures of my curtains that I made. No, they're not the most intricate design on the planet -- in fact, they're about the easiest. Three folds that are pressed, and five long seams. Truly, that's it. Here they are -- from both sides of the room: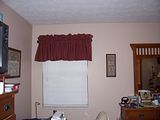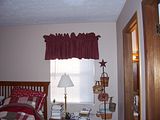 I am very proud of these little curtains. They're plain, simple, and they coordinate so well with the overall style of our room. Thanks for indulging me a bit. Here are some more random photos: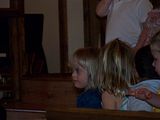 This is Caroline "singing" at her program the other night. I get really frustrated trying to take pictures at her programs, because the light in that auditorium is even worse than at our church. . .and that's saying a lot!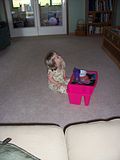 This is Caroline -- just this morning -- eating her dry Lucky Charms and drinking apple juice while watching Max & Ruby. It's Friday. . .on Friday, just about anything goes. If she wants to eat her breakfast in front of the TV, I let her.
We had another "I Did It!" bathroom success this morning. I'm not discouraged that we haven't completed the process, yet. It's going to be a long one -- but when we're on the other side, I will be a very, very happy camper.
My sister and her kids are in town this weekend, so we're doing lots of fun family outings together. This afternoon, Caroline, Lori, Becca, Mom and I went out to the Cranberry Hollow - Buttercup Tea Room in Lenoir City for lunch. (Very, very yummy food) Caroline sat up at the table like a sweet little girl -- and then proceeded to get grape jelly all over her face, hands, dress. . . I think there may even be some between her toes. I will post pictures of that tomorrow.
I'm amazed at how quickly my niece is growing up. She turned 7 in January. Amazing how quickly those seven years went by. . .although the past four have been kinda crazy/busy ones for us.
While we were driving to the Tea Room, my in-laws called. They're going to fly out for Caroline's birthday. I'm thinking of not telling Edison, and letting him be surprised. He doesn't read my blog -- that I know of -- so it will be fun to surprise him. (Oh, by the way, Steve? Your mom and dad are coming to town when you guys are!)
So, there you have it. It's a sunny, warm, breezy -- and soon-to-be stormy Friday afternoon here outside of luxurious KnoxVegas (as Mark calls it). We're headed out for dinner again tonight -- to one of my fav-O-rite places to eat. So, I'll be sure and take the camera for more fun, goofy family pictures.
Have a great weekend!!
Oops---I almost forgot to mention this!!! On Saturday evening, at 9 p.m. (eastern) Lifetime TV is airing the "Memory Keeper's Daughter" which is a movie made from the best-selling novel. I read the book last year -- it was a tough read for me. But, it is such a great story. Mark and I are encouraging everyone we know to watch it, if they can, because it shows a lot of the love, potential, and hope that children with Down syndrome possess. If you have never read the book, I highly recommend it!