Tying up a Few Loose Ends. . .
**There are pictures at the end of this post. . . .
Today would be what I call a 'typical' Monday. Didn't get nearly as much accomplished as I had hoped, but it
is
a Monday, right? Work went by at a regular pace. (Melly always says that her days
fly by
-- but I think that's when she's really busy) I wasn't that busy -- but I still managed to get some work done.
After picking up Caroline from the bus, we filled the van with gas. Hello gas pump, good-bye money. Wow. Then, it was off to get Edison from school.
Dinner was simple. Marinated Pork Tenderloin, Corn on the Cob (cut off the cob for the kids), and sauteed mushrooms for me. Caroline ate two mushrooms. I am making progress in my quest to get her to eat food like the rest of us. Then, it was bath/potty/homework/bed time for everyone under the age of 18. Phew!
I retired to my room to try to rescue (repair) the curtain I made last week for my one bedroom window. It was lopsided. I made valances for the windows, and the seam pockets weren't exactly even. . . .which made the curtains different heights. . .which wouldn't be so bad if they were across the room from each other. (I mean, REALLY, who would have measured them?!?) But, I had five yards of material for both windows, and I needed five yards for
each window.
So tonight was spent figuring out the problem, and then re-sewing the initial curtains to get them lined up. I did. They are. I rock.
Well. . . .now I'm washing the next five yards for the other curtain. And yes, I'm going to keep these five yards in one piece--and make this easier on me. I know. . .I know. . ."measure twice, cut once." Bite me.
So, now I'm going to stitch a few more quilt squares for my most recent rag quilt. I worked on it some last night--while watching the Lady Vols eke out a win over LSU. Tomorrow night, we'll watch them take on Stanford. When I say, "We'll watch. . . " I'm not really sure
how much
of the actual game we'll watch (Sorry, Marsha!) We're more like "pop in" basketball fans.
I did learn a bit more about a neat opportunity for Caroline. It looks like we're going to enroll her in dance classes this Spring. She will actually start on Thursday night, I believe. There's a local dance academy here in town that offers a special needs dance class. We're going to enroll her in that class for April & May -- recital in June (can you dig this??!?!) BUT. . . .if she shows some promise, and can follow directions, we
may
enroll her in a "regular" dance class in the fall.
How 'bout them apples, Auntie Beth?!?!
I spoke with the instructor/owner tonight, and she has worked with kids with Down syndrome before. She said that in many instances, they were able to put the Ds kids in with typically developing kids. . . .which is our goal. She also assured me (read up here, Bethie) that they do all the ballet positions, dance "walks" around the room, and the special needs class also includes tap dancing. That's right. . . .I'm gonna be Ginger Rogers' mother.
For those of you who have had the privilege of meeting "my princess" in person -- can you just die at the thought of Caroline in tap shoes?!?!?! I'm absolutely enthralled and mortified all at the same time. I mean. . .come on, ballet pictures are precious, ethereal, and so graceful.
Multiply that by 167 and add tap shoes to it. . .that's right, now you're getting that same headache I'm geting. If nothing else, it will make our (already insane) lives a little more jovial. Actually, I'm excited for ANY opportunity for my daughter to shine.
I promised a picture or two. I'm a woman of my word. . . .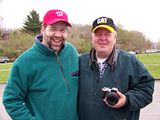 On Saturday, Mark, Caroline and I went over to Oak Ridge for a "regatta." Never having been to a regatta before, we weren't sure what to expect. But, we had gotten back in touch with Bob Gray, who Mark used to work with at Wheaton. Bob is the advisor for Wheaton's rowing team. They were competing in Oak Ridge -- and since we hadn't seen Bob in over 7 years -- it was a no-brainer for us to go over there.


Bob and Caroline enjoyed getting to know each other.
A fun story:Bob's the guy who called our home the night that Edison was born, with a message for "The Future President of the United States." It was pretty special. . .I love this guy.
Caroline did, too.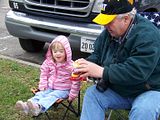 Oh. . .did I mention it was like being at a regatta in CANADA?!?! It was cold, wet, and I was ill-prepared for the weather. (No layers -- no jacket. . . only my rag quilt to keep me warm) Though it was chilly, it was a great afternoon. Mark rounded out the evening by taking Caroline and me out for dinner at "Panchos" where we dined on chips, salsa, tamales, burritos, and Sonic Chicken strips (for Caroline).
Wow. . .this one wore me out. Have a lovely Tuesday, everyone!