Day #3 - Wow.
Excellent day. Lots to talk about. Even some pictures.
Here we go. . .
The day began after a short night's rest. We had decided to put the sofa sleeper mattress on the floor, in order to avoid the mid-back bar. Worked for one of us. Not so much for the other.
Mark slept.
I did not.
Tonight, I'm trying the couch, and Mark will sleep on an air mattress on the floor. I'm guessing we'll both sleep better. We'll see.
We skipped breakfast because I was moving seriously slow. We made it to the convention in time, and Edison joined us for the adult session this morning. I am so glad he did. The worship was definitely more "old school" than I had anticipated. But, the message was amazing.
At the end of the message, people re-enacted this drama, which can be seen on YouTube. Just type in the words "Cardboard Testimonies" and be prepared for an amazing scene. I saw it live -- and I am fairly sure that there wasn't a dry eye in the place today. Totally amazing.
Then, it was another session, lunch at Chick Fil-A, and a workshop session this afternoon. A little more reminiscing and some more hugs from old friends. Then, it was dinner time. . . .
We went to Pomodori for pizza. Excellent choice.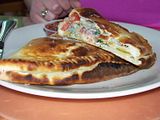 I had the Gorgonzola Walnut Calzone. I know. . .I know. . . it sounds very "vegetarian" but oh my word, it was amazing. Wanuts, Gorgonzola cheese, pesto (HOMEMADE), tomatoes, ricotta cheese. Yeah, it was awesome.

Mark and Caroline split a wood-fired pizza with sausage and cheese. She nearly ate her entire half. Good girl!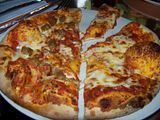 After dinner, we headed to Graeter's. Yes, Lois, we finally made it to Graeter's.
Well. . . in a word? Deliciousawesomeness.
I asked for a taste of the coconut chip (coconut ice cream with HUNKS of chocolate). I decided to have a scoop of coconut chip and a scoop of black raspberry chip (same idea -- same HUGE hunks of chocolate) in a waffle cone. Girl behind counter (we'll call her Sasha) broke my waffle cone trying to cram it in there. So, Sasha put my cone upside-down in a cup. It was out of this world!
Wanna see?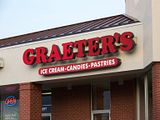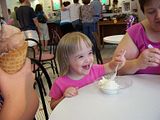 Okay, Caroline simply had vanilla. But, you can see that she really liked it!
One last shot from the pizza place tonight. . . they had copper table tops. I had some fun with some photography. Enjoy!