Illinois Vacation - Part 2
I'm actually writing these in reverse order. Part 3 was written first. Then, part 2. Part 1 is yet to be written. Our weekend was a bit crazy, but it was wonderful.
On Saturday morning, I went to visit some quilt shops with Char & her daughter and granddaughter. Unfortunately, the shop we drove an hour to visit was closed for the holiday weekend. Yeah, we were disappointed. We had checked the internet, and according to them, they were open. However, when we pulled up in the driveway, we learned otherwise.
So, we stopped on the way back home at another shop -- which was actually cool. It is called
A Touch of Amish
. It's located in Barrington, IL. It is made up of *two* victorian homes.
One was on the site -- the other was moved to the site -- and "fused" together with the other one. Result? One kicking quilt shop. (Money spent? About $40)
Then, on the way back to Wheaton, we stopped at
The Quilt Merchant
where Beth (Char's daughter) works -- and is owned by her mother-in-law. It's a very nice shop. Their specialty is 30s reproduction fabrics. They have a really nice selection -- and I was able to find a few things that just had to come home with me. ($30 worth)
While us girls were gone, Mark, Edison, and Steve went to Cantigny, a beautiful park in Wheaton. They enjoyed going through the museum, and seeing the beautifully landscaped grounds. They also visited the French Market in downtown Wheaton. Yummy raspberries, blueberries, and delicious scones were purchased.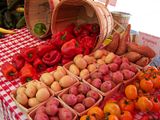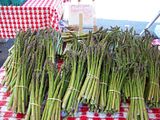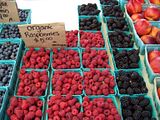 They also stopped into "Hairadise," my former salon in downtown Wheaton. Michelle Spane is the owner of the salon. She cut my hair from 1989 until 1996, when we moved away. She gave Edison his first hair cut. She was a major part of my life. What I loved? Mark said that when he and the kids walked in -- she immediately knew who he was.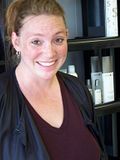 I didn't get a chance to get by and see her, but I have her email address...so we'll be able to maintain contact. (I'll even tell her about the blog -- if you're reading this, I love you, Michelle!)
After we got back from quilt shopping and sight-seeing, we got ready for Saturday evening. We were finally going to have Aurelio's pizza!!
We had dinner plans with Tom & Judith.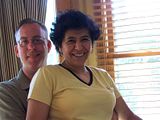 Tom and I went to junior high and high school together. I had never met Judith -- she is wonderful. She actually has family here in Tennessee--so I'm hoping that we'll get to see them the next time they're down here.
Edison loved Aurelio's.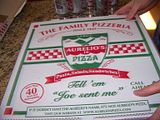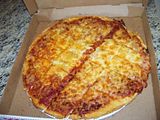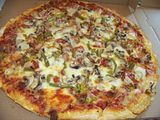 He also loved Tom's house. They had Guitar Hero III and a collection of cars that were very impressive. So, although we hated to pull ourselves away, we had to scoot down the road to get to church.
We attended the Saturday evening service at Community Christian Church in Naperville. We attended at the "Yellow Box" which is their main campus. We had a great time -- we were even able to see Jon & Lisa -- old friends from the old days. We actually played and sang at their wedding. We also got to meet one of their staff pastors who is married to a friend's daughter. That was fun.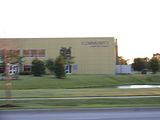 While the band was playing one of the songs, a familiar face found my familiar face in the audience--and suddenly Doug knew we were there! Shortly thereafter, his beautiful wife, Kim, walked in and sat with us. After church, we talked with friends. . .met some new friends, and ate some delicious cookies. But, for us, that just simply wasn't enough.
We headed to Seven Dwarfs, a place that is literally frozen in time in Wheaton. Edison loved the meal -- but the transportation to the restaurant was his favorite part. You see, Doug took Edison blazing out of the parking lot of the church in this. . .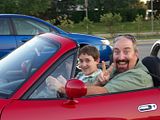 Need I say more? And, for my money. . . breakfast for dinner is always a hit!
Doug took great advantage of the chance to educate Edison about moose kisses. Moose kisses encompass the gentle art of licking the intended's face. Edison was delighted?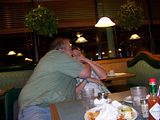 Of course, Doug and Kim got a big kick out of Caroline--and she kinda liked them, too!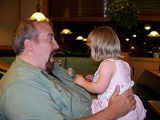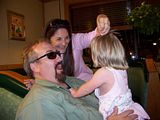 On Sunday morning, we went back to Wheaton Wesleyan Church. This church was our home for five years, from 1991 until 1996. We became a family there --going from "the two of us" to "the three of us." These people loved and nurtured us in the early days of our marriage. And, a chance to go back and see them -- and introduce them to Caroline--well, that was just phenomenal!
Everyone was amazed at how much Edison has grown. . . but it was 12 years. Ya know? He had a good time, I think. It was a bit hard to say. Caroline? She just made friends with everyone she came in contact with. Surprised? Didn't think so.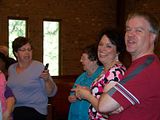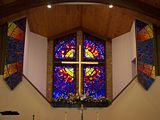 Sunday afternoon, we headed out to Maple Park for lunch with two families that we went to church with in Wheaton. Julaine & Steve (and their five wonderful kids) live out in this beautiful "suburb" which is nearly an hour west of Wheaton. They have a beautiful home -- and a full, gorgeous corn field behind them. You really couldn't ask for a better view.
Mike & Thelene, and their two kids were also there. They still attend WWC -- but they weren't there on that particular Sunday. So, they joined us for burgers, brats, baked beans, potato salad, cookie salad (that's right -- I said cookie salad), corn casserole, and Ho-Ho cake. Yeah, we ate like pigs. But, it was delicious.
After lunch, the kids and dads went swimming. They all had fun -- the Moms (and Becca, Julaine's beautiful daughter) sat around and watched them. It was great.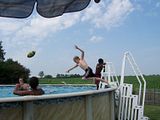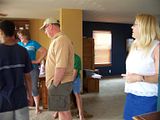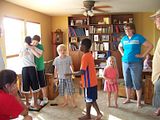 We created new "inside" jokes -- and laughed about old times. It was such a great time. We hated to leave -- but around dinner time, we headed back to Wheaton. Upon arriving at Steve & Char's house, we had a great dinner of spaghetti, salad, and italian bread. YUM. Caroline ate three (small) plates of spaghetti. Baby girl can eat, I tell you!
So, it was a phenomenal, fun-filled weekend. So many chances to reminisce and reflect. We are so very, very blessed.