Illinois Vacation - Part 3
The last two days of our vacation made this the best trip we've taken in a long time. I realize that sounds bizarre, but it's true. I'm talking about Monday and Tuesday. Although Wednesday was pretty cool, too.
On Monday, we ventured over to Wheaton College to have lunch with some of our friends that still work at the college.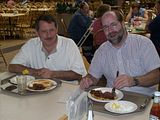 Mark & Dan Crabtree had a great time reminiscing. We really miss this bunch of people -- and spending time with them was just amazing for us.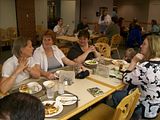 It was such a treat to catch up on all the campus (and off-campus) gossip.

Then, as you may have read on Christy's blog, we met up at Cosley Park in Wheaton. She described the process pretty much as I would. We were nervous. Very nervous. I mean, for those of you who read this blog that have never met me -- I'm not nearly as glamorous as this blog might lead you to believe. (yes, I am snickering as I type this!)

In all actuality, I'm about the most unglamorous person God created. But, as I guess I came to discover this week -- I am a cherished child of God. I was created in His image. And for that reason alone, I am a valued member of society.

No. You have not stumbled upon a self-esteem building blog entry. Nor have you stumbled upon an ego maniac who needs to flex her "diva" muscles. I just had a moment this week, where I realized that I am loved and cherished *right now* and even more than my friends and family love me. . . I have a Savior who loves me even more. How cool is that? But, that's really not the point of this entry. You want pictures and stories. So, here you go.

Meeting Henry, Christy, Stephen & Maggie was such a wonderful treat. Like I eluded to previously, I was nervous about meeting them. But, as soon as I hugged Christy, and planted a kiss on Henry's little cheek, all those fears rolled away, and we just had fun! Here's some of the evidence: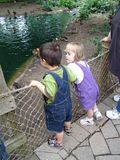 After our afternoon at the park, we spent a little time at the Billy Graham Center (Wheaton College) reminiscing with some of my former co-workers. We even called one of my friends out of a meeting. How scary is that?!?! (But she came. . .)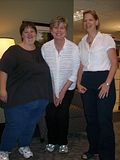 (No, I'm not crazy about the angle on the picture. . . but I'm posting it.) Amazing, huh?
After we left the college, we got ready for dinner on Monday night. We ate at our favorite restaurant. . . but it was at a new location. Reza's is an amazing Persian restaurant in far North Chicago. We went to a new location in Downers Grove. The ambiance wasn't the same -- and as Doug pointed out -- the food portions are smaller and the prices are larger.
But it was still really, really good. And the company was even better. (there *are* pictures. . just not on this computer) Mark, however, had started feeling not-so-good on Monday -- and it hit him like a ton of bricks during dessert on Monday night. I drove us home. Which was actually kinda fun. We stopped for drugs at CVS on the way home, and he was in bed before you could say "mononucleosis." No, he didn't have mono. (it was the longest sickness name I could think of)
On Tuesday morning, we knew we were supposed to hit the road. We also had a driver/dad who didn't feel 100%. So, we started a bit later than we had hoped. Our plan (initially) was to take Edison around Downtown Chicago, and give him a taste of the city. But, that wasn't going to happen on this trip.
He was bummed . . and we got a little attitude from him as we bypassed the city and headed for the south suburbs. But, we promised him a trip to the city next year, when my nephew graduates from high school. Part of our trip to Michigan next year will include time in Chicago -- and (hopefully) a chance to meet up with Joni and Judy (two more blogging friends).
We met up with my friend Karen, from high school. We didn't actually go to school together, but we attended church together, from probably 5th or 6th grade on. We were in each others' weddings. She is beyond a doubt, one of my lifetime friends that I cherish more than I can express. We lost touch for a number of years, but hooked back up on facebook (of all places) while we were in Ohio/Illinois. It went something like this:
"Hey Angie! It's me. If you're ever in the area, we need to get together for Aurelio's pizza!"
Of course, all I could say was: "We're here. Let's meet up." So we did. . .only our restaurant of choice was Cracker Barrel, rather than Aurelio's. She immediately fell in love with the kids. She had a very special time with Caroline. I know I've done this before, but indulge me. Wanna see?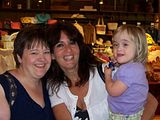 It was such a great time with Karen. We laughed. We cried. We bought over-priced vintage candy at the Cracker Barrel--and we had to say goodbye all too soon. But, there was still another reunion to come.
We arrived in Carmel, IN about 7:30 p.m. That's a little late for us for dinner, but we made it a point to venture out -- all the way across the parking lot. There was a Max & Erma's across from the hotel -- so we agreed to meet one of my oldest friends (and I don't mean AGE) that I haven't seen since we were both in college.
You see, in 8th grade, we moved from one suburb to another -- it was less than one mile, but it meant that I had to change schools. When I did, I met Sue Cowger. Sue and I became instant friends--and although it was only two years--it was one of my strongest and closest friendships.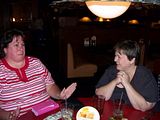 We had dinner together -- during a severe thunderstorm that even took the lights and electricity for few minutes. (They eventually came back on) And, then after dinner, Mark and the kids walked (well, ran) back over to the hotel, and Sue and I drove to her house. We sat and talked. . . and talked. . . and talked. . .and talked. We looked at old pictures--identifying faces we hadn't seen in years. We laughed over pictures from junior high musicals in which we both participated. We also laughed about "the incident."
During our 9th grade year, our chorus sang at a local mall for Christmas. You know, back when it wasn't politically correct to sing CHRISTmas carols in public? Sue and I were slated to sing "O Little Town of Bethlehem." She sang soprano. I sang alto. We both? Laughed.
Something happened that had us already in a giddy mood before the music began. But, neither of us remembers what that was. Regardless, we laughed -- actually, we alternated laughing and singing -- for a verse. I think we eventually walked off stage, to regain our composure. We both have a picture of "the event" but I don't have it close enough to scan and put on here.
So, how long did we stay up and talk? Uh. . . that would be 3 a.m. Yep. I said it right. We nearly stayed up all night talking. So, needless to say, we all slept in on Wednesday morning. But, as I crawled into bed, I whispered to Mark, "This was the best. Thank you."
And, I mean absolutely NO disrespect to anyone else that we spent time with over the week. But, I have to say -- with Sue, it was like time stood still for 25 years. We laughed. We reminisced. (Well, I told you that already)
It's amazing to me how there are certain friendships that can literally pick up where you left off. . . and all of our reunions were like this while we were away. Friendships like this are to be cherished and nurtured.
I won't let this much time go by without staying in touch with these cherished friends. . . .I would love to name them all here, but I'm certain that if I attempt to name people, I will leave someone out. So, you know who you are. . .and you know that I love and cherish each one of you.
Thank you for making this a memorable vacation for all of us!