Bigger Than I Imagined!!
Okay. . .it's actually Sunday (wee hours) morning, and I have finally gotten myself to the point where I can share some pictures from our day.
I believe I promised anecdotes, and that may have been a prediction I cannot live up to. We'll have to see about that.
What's the big news?
The kids both got new beds today. . . well, new to one, and NEW to the other.
We decided, a couple weeks ago, to give Edison/Caroline's crib to a girl from our church who is expecting a baby -- literally, any minute -- and somehow, today became the day to give it away.
One problem? Caroline had no bed. So, Caroline got Edison's old (NEW) bed. We got him this bed when we moved here a year and a half ago. I believe there's even a blog post about the bed situation. . . see archives.
Okay, saying
one problem
really doesn't cut it. For, you see, Caroline hasn't really slept in a big girl bed as of yet -- so we needed a guard rail, too. And, because kids with Down syndrome have the capacity to be wanderers. . . we needed a gate for her room.
So, yeah. . . Caroline and I headed to WalMart around 10:30 this morning, in hopes of finding her a guard rail, a gate, bedding, and bedding for Edison's new (full size) bed.
Most . . let me repeat,
most
of that happened. (I guess what follows will count as an anecdote):
I am not a fan of most teenage stuff that is foisted upon little girls. Hence, my daughter has
no clue
who Hannah Montana is. She has never heard of the Cheetah Girls. And, when she sees the Disney Princesses, to my utter delight, she says, "Oh Mommy, look at the pretty princesses." They don't have names. She can't tell Ariel from Sleeping Beauty. (And, if I'm honest, I get Sleeping Beauty and Cinderella mixed up myself)
So. . . .to my dismay, WalMart has discontinued their really cute juvenile bedding that has no celebrity attached to it. In fact, Skippy the Furniture Stock Boy told me that about 10 days ago -- he was
that
specific -- they had the comforters with the ric-rac, flowers, and plaid pillow shams. But they were cleared out to make more room for Hannah and her friends.
Oy.
So, being the resourceful mom that I am. . . I found a set of sheets, in a medium pink --
really cute.
Then, I headed to the fabric department, where I found and purchased five really cute flannel fabrics that will be transformed into a really cute comforter for the fall/winter.
I'll go to Target to find a spring/summer comforter, thank you very much, Mr. Walton.
Anecdote finished.
I was able to find Edison a "Bed in a Bag" that matches his room perfectly. (picture to follow) So, the day was a win-win-WIN.
Why the third win, you ask? Oh. . . . my friends. . . .
HE WON AGAIN. That's right -- #31 did it with about 49 laps to go. I was actually surprised that my phone didn't ring. A number of my friends know how I am cheering for Jeff Burton. And, tonight's win not only got him closer to a NASCAR championship -- he's 69 points away from Jimmie Johnson.
Yeah, it was a good day all around. Oh, the pictures? Sorry, I nearly forgot!! Yeah, right. . . enjoy!
Here is Edison's new bed . . he even made it himself!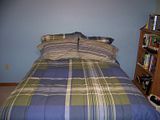 And, here is the Princess' new digs. You'll see that her blanket doesn't quite cover the bed. I'll be frantically sewing for the next couple of days, I suppose.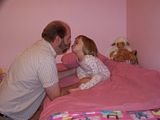 Giving Daddy a kiss goodnight.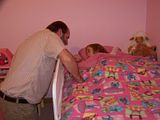 Actually laying down without argument. I suppose once she figures it all out, we'll get more resistance. But tonight? She went right to sleep.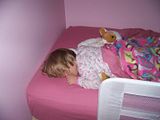 See?? I told you so!
Good night! Sleep tight!