New You. . .and a few new layouts
What could be better than setting out "resolves" for the new year? Well, that would be creating a digital layout of yourself, and your list of resolves, and then posting them on the internet for literally thousands, nay, MILLIONS of people to see!
But that's what I just did. Based on the blog entry of a couple days ago, and a challenge issued by my friend Jamie, I posted the following layout at various digital scrapbooking sites. And bear in mind, I loathe "self" layouts. This will be rare, I guarantee.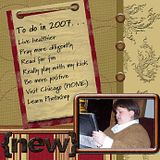 What I'd much rather do is continue my quest of documenting the lives of my children, and our family. Layouts like this: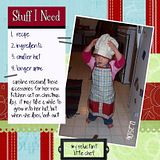 I call this one "Reluctant Chef" because she was bound and determined to take the hat off the minute we put it on her. But, you have to admit--she sure looks cute in it!
Book update: I am nearly done with a book entitled "Plain Truth." Set in Amish Country, kind of morbid. But, enjoyable, nonetheless. I've decided to document books that I've read here--because, well, that's what a good blogger does.
Happy Monday, everyone!