A Series of Unfortunate Events
. . . or, at least that's what it
feels
like.
We arrived home from the hospital on Tuesday afternoon. Grandma had agreed to watch Caroline during the musical on Tuesday night, so we thought we had it made in the shade.
See my title....again.
When we arrived home, at half-past nine, Caroline was asleep on Grandma. Not in Grandma's arms....no, she was
on
Grandma. Sprawled between her arm and leg. Mom said that Caroline would wake up crying and coughing if she was placed on her tummy in her crib. So, Grandma did what any reasonable Grandma would do, and
rocked her to sleep and kept her there.
After Mom left, we started to suspect that Caroline had a fever. Checked. Sure enough - 101.5 (ear thermometer) so, it was creeping up there. After giving a good dose of Motrin, she was back to sleep.
But, in the morning, the crankiness and fever had both returned. I called and moved her Pediatrician appointment up from 1 pm. to 10 a.m. I suspected RSV (Respiratory Syncytial Virus).
I was right.
So, three prescriptions and two hours later, and we were home. She was given two prescriptions to be taken with a nebulizer. Those aren't so bad. She does allright with them. The doctor also noticed a slight redness in her right ear, so we also have (yummy) amoxicillin.
She's doing allright--but the steroids and other breathing treatment medicine tend to "hype her" up. So, we've had less sleep than normal, but all in all, we'll survive.
While she took a brief nap today, I made two layouts. It had been a LONG time since I had been creative, so it felt good to get back to the computer. Here are the layouts. Thanks for looking!
This first layout uses a kit from Stacy Carlson entitled, "From a Prince to a King." I absolutely fell in love with it the minute I saw it. The word art is pillowgirl's "Sherbet Quote Pack." (both were freebies)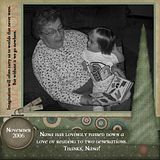 This next layout is going to be one of my favorites for a long, long time. The kit is a "duet" kit from Eva Kipler and Shelle Pukas. I just thought the colors were perfect to go with the colored lights on the tree.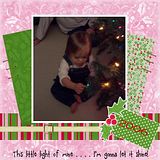 As always, thanks for looking at my layouts. That's one of the advantages of digital scrapbooking - especially with friends and loved ones you don't get to see very often.
As our series of "unfortunate events" comes to a close (PLEASE!) and the next couple of weeks unfold before us, I pray that you'll enjoy the sights, smells, sounds, tastes, and joys of the Christmas season like never before.
Now that the musical is behind us, we finally feel like we can take time to really enjoy getting ready to celebrate.
Now, I'm off to either wrap presents or bake cookies!