And, it's still only November 19
This is going to be the craziest couple of weeks coming up. Good, but crazy. As I share these events with you, I will try to attach pictures to make it more interesting.
Friday - what a day. Flu shot for Caroline (no tears). Her Thanksgiving program was a treat. Big nap. Then, Edison's middle birthday celebration.
We celebrated Edison's birthday for the last time tonight. I say "last time," because he had
three
celebrations. On the actual day, we had cake & ice cream after church, and opened presents. On Friday night, we took him out for dinner, and told him he could have
anything
on the menu.
However, when we looked again at the menu (he wanted steak & baked potatoes) we gave him two options. He chose well, but I think he will heed our advice in the future. I love life lessons.
After dinner, we went out for ice cream. Come on, it's the kid's birthday celebration. Marble Slab Creamery is one of those places with the frozen slab of marble where they mix delicious treats in with your ice cream. Our choices were:
Angie - pina colada ice cream & pineapple
George/Mark - double dark chocolate with fresh raspberries
Edison - swiss chocolate with cookie dough
Mary - sweet cream with fresh raspberries
Caroline - vanilla - no mix in.
Actually, when Caroline finished her ice cream, she started staring at other peoples' ice cream until they gave her a taste of theirs.
We're so proud.
Following ice cream, Mary (Nana), Caroline and I came home and watched
Return to Me.
(Definitely one of my all-time favorites) Mark, George and Edison went to McKay Bookstore - and found all sorts of treasures.
Saturday was busy, too. I popped into work to get things ready for services this morning. Then, Mark and I had an appointment with The Big Guy in Red. (Santa). Caroline's new play kitchen had to be purchased, along with other treats. I'm forced to keep them a secret, because all sorts of people read this blog.
Church today was fine. Thanksgiving-ish. I like these types of services. Lots of reflection on the blessings. Being told not to focus on what you don't have, but rather on what you
do
have. Good times.
Lunch at Mom's was Edison's final birthday celebration. Pork roast with cherry sauce, various veggies, and pie. My Hershey's Perfectly Chocolate Cake last night was a colossal flop. So, Mark bought coconut, blueberry, and chocolate pie at the store today. Mom's homemade pie would have been better. . . desperate times, ya'll.
Edison's out of school all week. (Cue the Alice Cooper song) He's looking forward to some quality time with Nana and Papa.
Me? I've got tons of work. Two pre-musical rehearsals. Pictures to scrap. Meals to plan for impending company. A new afghan I've begun for my niece. Somehow in the midst of making afghans for everyone else in the family, Becca got left out. This new one is going to rock - fuscia, tangerine, and lemon. It screams "DIVA" and "PRINCESS!" Can't wait. Again, will post that pic, too.
Mark's college friend, Lynn, called tonight. As they talked, I eavesdropped. (Tell me you wouldn't do the same!) Anyway, they talked about the ole' bloggie here. Turns out, my husband reads it from time to time. (Who knew?) He told her to continue reading it because it gives a blow-by-blow of our little life here in rural East Tennessee.
Helen, this one's for you. . .
NOTE TO SELF: Be careful what you type in blog. Not only could a potential or current employer read it, but the dear, wonderful husband reads it too.
Happy Monday to you all!!
Promised birthday pictures: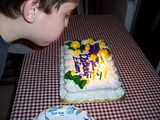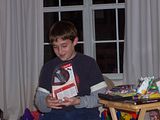 And, finally, Caroline's Thanksgiving program included her class singing, "If You're Happy and You Know It!" Look at my baby in that little pink cardigan. It gets me every time!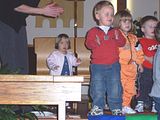 p.s. Thanks to everyone who wished Edison a Happy Birthday through the blog. I forced him to read my post to him, and let him read the comments. Trust me, you all were a bigger hit than I was. Isn't that the way......?