Way Too Long Between Posts
Sorry about that!
It has been a very interesting week. I even tried to blog last night, and lost my internet connection. It's not that disappointing, though, because I typed two very uninspired sentences and lost my mojo.
Tonight, I have determined that I'm going to blog--even if I have nothing to say. But, you know me. . .I've got a few things that are just begging to be typed.
1) Vote tomorrow. Whether we agree on what party to vote for, or which candidate really deserves to be elected, we have an obligation to vote. It's a privilege, people. Do it.
2) My kids are awesome.
Edison has made it through his 2nd set of 6 weeks at school. He's doing a great job. His grades are good. His teachers are pleased. We are very proud parents.
Caroline is making huge strides. She has developed a hankerin' for chicken nuggets. She even embraces Chick-Fil-A nuggets--and those were the ones Edison took the longest to develop a taste for. (But, they're the best!) We've even had two or three "non-baby-food" days. Those days are the best!
3) At my age, I've discovered that I firmly despise change. It is difficult - but it's something we all face. Things in my world will be changing over the next year. Although I know it is for the best, it will be a difficult change. More details will follow. My health is fine. My marriage is fine. I just HATE change.
4) The holidays are upon us. I haven't really tackled Christmas shopping, and probably won't for another two weeks. Mark's mom and dad are arriving next week, and Mark and I are hoping for a chance to get away and do some "Santa Appointments" while Nana and Papa spend quality time with the kids. I'll get a grip on things, but right now, it seems hopeless.
I had another point, but it's gone. I'll leave you with a few digital layouts I've accomplished in the last couple of days. I also have to send a HUGE shout out to Melany - who surprised me with the most beautiful album of digital layouts that she printed out. This little 8x8 album is full of the layouts she has done of Edison and Caroline. They are exceptionally beautiful, and I am so grateful for such a wonderful friend!
Here are the layouts. . .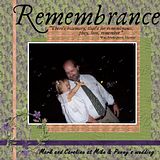 Taken at Mike & Penny's wedding. Caroline was really digging the bubbles.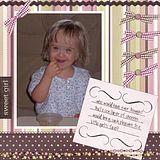 Not my favorite picture - it's kinda fuzzy. But, the sheer delight on her face - and it's all because of a container of Cheerios!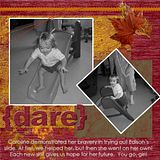 Wow, she has gotten so brave! I am so proud of her, and her accomplishments. What a girl. . .


Have a great week - in case I don't post again. Enjoy. Vote. Pray.