Up to the Challenge?
Tried something new tonight. . . .I submitted a layout for the crop & chat challenge at Digiscrapdivas. I have recently joined this really cool group of ladies (I assume they're all ladies) who do digital scrapping.
I couldn't find a picture in its original shade for the challenge, so I recolored this photo of Caroline to match the papers provided for the challenge. I don't know if I have won anything yet. And, that's allright with me. At this point, I'm just proud to have risen to the challenge.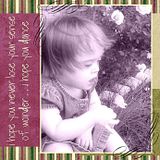 Before that, I completed this layout celebrating Caroline's graduation to more solid foods. She started munching on chicken nuggets while we were at Milligan for my class reunion. Pardner's Barbecue is one of our favorite places to eat barbecue and homemade french fries. (they rock) Since we were fairly certain that barbecue wouldn't be to her liking, we orderd her some chicken nuggets, and gave her a puddle of ketchup. The rest is history.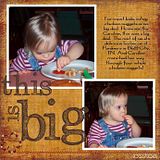 And if there's anything I've learned about raising a special needs child, it's this: You celebrate every milestone - even the ones that seem absolutely ridiculous. Now, couple that with an avid scrapbooking way of life, and you see why we have pictures of her dipping nuggets in ketchup.
There you have it. . . my challenge complete, and my layouts posted, I'm headed off to bed! Have a great Friday!!