If You are Diabetic. . . .
. . .this may NOT be the blog entry for you. I can promise you nothing shy of honey-dipped, sugar-coated, saccharin-free sweetness that will just ooze all over you.
. . but it's Caroline. Would you expect anything less?
By the way, I realize it's been (nearly) a week since I've added anything of substance to the old bloggie - but it's been a busy, busy week. This one will be much the same, with a few extra demands piled on top.
Along with three (3) rehearsals this week, Caroline has a visit to the GI doctor tomorrow morning. We are hoping to be released from care. She has had little, or no issues in the last 8 months. We are hoping that she'll give us the green light to begin weaning her off of Prevacid. It will make mornings so much easier -- especially for Mark.
Then, on Wednesday, we go to the dentist/orthodontist. It was just a matter of time before the inevitable happened. Edison will need braces. Even a blind man at 30 paces could tell you that. So, on Wednesday, we should know whether or not we need to refinance the house, and when to begin a diet of Mac & Cheese and Beans & Rice. I don't think it will be that bad, but you never know.
Okay, enough of the "woe is me" talk. . .here comes the fun stuff.
Saturday afternoon, we went to our Down syndrome group's Christmas party. Lots of fun for everyone. Lots of people. Lots of beautiful kids. I love DSAG events. So life-affirming for us. It's so good to have this community of families, parents, friends, children. . .it's just wonderful. We got to see families we haven't seen in a year or so. Their kids are growing--and as Caroline grows--I really hope that we'll establish some special friendships with them. Makes the future seem oh so bright.
Anyway, she got to meet Santa. We have taken her to see Santa every year, so far. The first year, we had our own PRIVATE Santa because she was still in crisis mode as far as cold & flu season. Just being 2 months out of surgery, we protected the heck out of her.
Last year, she "met" Santa, but didn't really look at him. This year. . .well, see what you think:
I think she enjoyed meeting the Man in Red. He was very sweet. Very gentle, and so patient with all the kids. Made for a great afternoon.
As you can see in this next picture, they also had a KinderMusic instructor who taught the kids for about 20 minutes. My girl was all over that.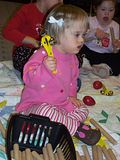 Sunday, after church and a meeting, we finally got our Christmas tree assembled, decorated, and some of the decorations put around the house. I will post a couple tree pictures tonight, and other decorations later in the week.
Our big news this year was/is the switch from "white lights and cranberry garland" to "multi-colored lights/no garland." I'm still not sold on it, but it's growing on me.
Our trees have been very traditional - country-ish for the past 15 years. This year, however, the ornaments are more juvenile and the colors are brighter. I know, go figure.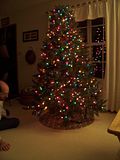 But, it reflects the joy of the season just as well as my traditional white lights/cranberry garland tree, so I can't complain.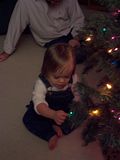 One tradition that has been passed down (or over) was the placing of the star on top of the tree. For years, Edison has been hoisted up to place the gold star (it's made of cardboard) on top of the tree. This year, however, Caroline was given the honor.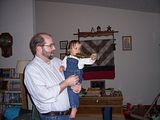 As you can see, she gave it all the pageantry and regal formality it deserved.
Okay, this really is the last "story" for this entry, but it's my favorite thus far.
Tonight, as we were getting Caroline geared down for bed, I decided it was time to make a change in the nightly repertoire of songs, and add a Christmas song. Not that "Four Little Ducks," and "This Little Light of Mine" don't convey the Christmas message. Yes, I also sing "Rocky Top" to her, but I won't even try to justify that one.
I opted for "Away in a Manger." Well, with Caroline, once she likes a song, it's on the Top 40 list for at least a week. Sometimes two.
"Away in a Manger" is going to be around for a while. Not only does she request it by saying "No. No. No. No." to every other alternative, but she tries to say "manger." I know, it's so sweet that
my
teeth are hurting. She also will repeat the following four words (in succession) after me. I'm going for a sentence, here.
"Baby"
"Jesus"
"Sleepy"
"Hay"
The funny part is that she has somehow gotten in touch with her Inner-Fonzie, because her "Hay" has that "heeeeeeeyyyyyy!" quality that only Henry Winkler could produce.
There. Is that sweet enough for you?
Can I get a glass of water, please?