Utterly Ridiculous!
While at the gym this morning, yes I *have* been going to the gym this week. (see previous post) Anyway, I digress. . .
While working out at Curves this morning, one of the ladies commented on how warm our weather has been. She was right. It has been unseasonably warm for January. Another claimed that her pear trees in her back yard are blossoming. It honestly wouldn't surprise me. You would think that we were living in Florida, it's
that
warm.
It's wrong. Just wrong. January is supposed to be cold, dreary, and miserable. But no, it's 60 degrees. It rained this morning, and there are a few clouds in the sky - but between those clouds are gorgeous blue skies.
I'm not complaining. At least I'm trying not to complain (again, previous post), but this is ridiculous. I really want a reason to play my
Winter Solstice
CDs. At this rate, I'm ready to break out the Beach Boys, and prop open the windows.
Maybe my wishes and prayers will be answered with cold, nasty weather. (Sorry, Dad!) But, if not, I'll have sun-tanned cheeks by Easter. That could be fun, too.
Dwelling on colder temperatures, here is a layout I just completed today of Caroline. This was taken back in October, at our staff cookout. It was cold that night. And, when this freebie kit by Eva Kipler came out, I knew I had the perfect picture of Caroline to go with the kit.
Enjoy. Stay warm. . .sigh, we are.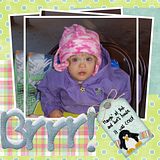 Edited: Turns out that the previous layout I had posted included a title of "BTTTTT!" rather than "Brrrrr!" Whoops. Thanks, Melany!