Pic-tures!
My dear friend, Pete Smith, used to utter this phrase in a desperate-whine, while holding his hands up above his head. It was usually uttered after someone talked about a topic which left the listeners with disturbing "pictures" in their minds.
And so, to this day, whenever a conversation heads down a path that leads to disturbing images, someone (usually my Dad) is bound to utter, "Pic-tures!"
However, these "Pic-tures!!!" are ones that I have promised for a long time, and am just now getting around to posting. Here goes:
This is the quilt on which I am working. I bought it at an antique store a couple years ago. I believe that it was hand-pieced, so I am hand-quilting it. This will not be a quick process. I'm not amish.
This is Caroline admiring said quilt. She will, one day, inherit this. Like. . . the day after I finish it. As long as she's short, it will be the perfect size for her!
These are the samplers that hang on either side of my french doors which lead to the sun room. Unfortunately, between the glare of the glass, and the fact that it is 8:15 p.m., they're not the greatest pictures in the history of photography.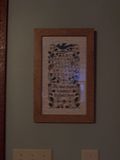 This is my daughter being cheesy. 'Nuff said.
This is my daughter preparing for yet another boat ride. She enjoys it, until the boat starts moving. Oy.
Here are "the boys" that I so lovingly blogged about last week. From left to right, you see Edison, Daniel, and Andrew. It would not be right to post Caroline pics without an Edison pic or two.
[And yes, that is my killer potato salad directly in front of Edison! The Oriental Slaw is just to the right of the KPS (Killer Potato Salad) Thanks for asking!]
And, I believe, this is the picture you've all begged for.....even if you didn't put it in writing. This is yours truly on her maiden voyage out on the French Broad River. I really did enjoy it. . .but I was petrified of the docking and un-docking procedures. Smooth as silk, my dears. Smooooooooooth.