So Many Options. . . .
As I started scoping out this blog entry, I had a few ideas of title options. . .
1) My Stubborness Pays Off!
2) Color me Blue. . .Plaid
3) Just When You Think. . . .
Okay, okay, enough literary devices. Here's the bottom line. . . so to speak.
Over the past week, I've been trying to bring in the winter clothes while taking out the summer/spring clothes. You have to understand that in the southeast, a true definition of a "winter wardrobe" usually consists of at least one (1) pair of capris and a short-sleeve shirt or two. Our weather here is bizarre. And no, Mr. Gore, it isn't due to global warming. It's just Tennessee--you're a native--you should remember this.
Anyway. . .as I was hanging up clothes from last year (and years previous) I hesitated to hang up a couple of items, because for a couple of seasons now, they haven't fit.
So, in an effort to rid this house of unnecessary junk (I'm thinking another word) I decided to try on a few items, and if they didn't fit (this year) I was chucking them to Goodwill. Here's the verdict:
* The black velvet dress (2 sizes smaller than I used to wear)
fits
. I will be wearing it for either Thanksgiving Sunday or Christmas Sunday. . . or both.
* The celery green velour sweater that my sister gave me
two years ago
that didn't even make it past my forehead when I received it
fits.
I will be wearing it for Thanksgiving. . .if the weather is chilly enough. (It's a velour turtleneck. . .quite warm. . .but quite pretty)
* The blue plaid (see my title option #2) pajama pants that I ordered two years ago (I believe)
finally fit.
And, as I type, I am wearing them. They are wonderful. They are warm.
They are going to be worn a lot.
So, all those crazy red boxes of Weight Watchers Teriyaki Chicken and Vegetables, and all those crazy Fiber One breakfast bars, and all those bags of frozen broccoli and green beans are finally paying off.
**I'm even starting to get "comments" from people at church. . .that's probably the best part of all.
So, my post today is a happy post. A blue-plaid-black-velour-celery-green clad post about new (old) clothes, and finally being able to wear them.
Oh, and we got our kitchen curtains hung last night. . . wanna see?????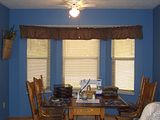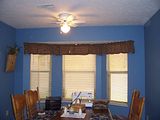 Yes, that is my sewing machine on the kitchen table. I'm still knee-deep in a project or two that need to be finished (if I'm honest) before my company arrives this week. Not gonna happen. Said project will be relocated to my bedroom (probably tonight) and I'll plug away on it while they're here! (Shhhhh! Don't say anything!)
Oh, and I nearly forgot. . . I finished 600 Christmas Cards for DSAG last night. They are signed, folded, stuffed, and sealed. I'm glad to have that done!