A Couple More. . . .
I got a couple more layouts done tonight. The first one took a very long time--just because I kept changing my mind on how I wanted it to look. I also used ALL SORTS of elements from ALL SORTS of different designers on both of these layouts. So, although they may seem relatively easy, they both took a significant amount of time.
Oh. . . house update. I FINALLY got the towels and shower curtain for our bathroom. The colors are a deep red and a light gold. The shower curtain is an ivory seersucker. One of my fave colors with one of my ALL-TIME favorite fabrics. How could this end in anything but tears of joy??
My next step will be to go find a wallpaper border to go in there. I'm thinking a twig border with red berries and small gold stars. We'll see. I've also got some more things to put on the wall. . .but for now, there are towels and a rugs. And, the colors are BEAUTIFUL coming out of our bedroom.
I took the kids on a Church/DSAG errand run today -- to a promotional materials company. The lady was gracious, but Caroline was all over the place. At one point, Judy taught him about the adding machine and the fact that if she hit the right button, the paper would feed out automatically. (We killed a tree)
But, it was fun, and productive.
Speaking of fun and productive. . .here are the layouts I came up with. It's starting to thunder -- which means that we've FINALLY got a thunderstorm on the way. I think I'll hop off here -- upload these pics to Facebook, and go solve a few sudoku puzzles before bed!
Have an awesome weekend. Not sure how much time I'll spend on the 'net tomorrow!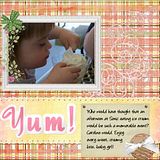 Yes, you probably *do* recognize that picture in the 2nd layout. It was taken the same day as the picture in my header. It's one of my favorite pictures of Caroline. It seemed to be perfect for this layout.
Bye, ya'll!