Layouts and a Recipe. . .as you wish! (Edited!)
I've had a fairly productive evening tonight. After dinner, we went for a family walk. Of course, Edison "walked" on his bike. He did enjoy himself, though. You can't argue with that. Here are some scenes from the walk . . .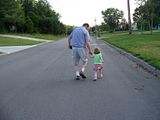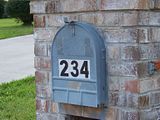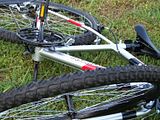 Then, after the kids were in bed, I spent some time working on a few scrapbook pages. Okay, I worked on five scrapbook pages. Digi pages are just so much fun, while you're doing other stuff. Tonight, it was watching reruns of the Office and new episodes of Last Comic Standing.
. . .that's right. We don't watch Lost. I realize this makes me completely out of touch with most of my friends. That's a risk I'm willing to take.
Here are the layouts I mentioned.


I still love the pictures I took out in the backyard last year. Seriously some of my favorites. I used Christy's new "Summer Solstice" kit.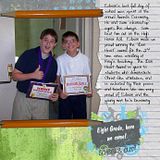 Edison and his buddy, Sam, after Awards Day last week. I was, and still am so proud of him.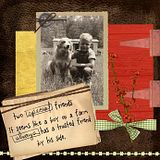 This picture is of Mark's Uncle Leonard, when he was a boy. I love the smile on his face, as he sat with his faithful companion.






When Mark's family was here during Caroline's birthday weekend, we went out to Ruby Tuesday for lunch. While we waited for our food, Uncle Steve helped entertain Caroline with the crayons and kiddie placemat. Thanks, Uncle Steve!!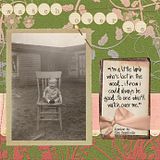 This is one of my favorite old pictures that came from my Mother-in-Law's family. I love the imagery of the woman looking out the window at this precious little boy.
Oh. . . and Judy? Here's the crisp recipe. I totally made this up myself, using the splenda ingredients.
Individual Blueberry Crisp
1 c. fresh blueberries
1/4c - 1/3 c. splenda
1 - 2 T. flour
1/2 t. lemon juice
Mix together and put in a lightly buttered glass container. (small)
Topping
1/3 - 1/2 c. quick oatmeal
1/4 c. flour
2 T Smart Balance "butter" (melted)
1/3 c. Splenda Brown Sugar substitute
1/4 t. cinnamon
dash of salt
Mix these ingredients together and plop little blobs on top of the berry mixture. Bake at 375 degrees for 30 minutes.
Edited. . . thanks to my wonderful brother-in-law (the fave), I corrected the grammar on the last layout! (Thanks, Steve!)