Lavender's Blue -- Baby Lily
Just this morning, on our local Sunday morning news, they did a story about a farmer's market in Downtown Knoxville. One of the local vendors sells lavender. I used to grow lavender at the old house -- and have started two plants in the bed out back. I love the smell. I love the color. I love the plant. I love it all.
Anyway, as they talked to this vendor, they asked her to sing the old song, "Lavender's Blue, Dilly Dilly. . ." The
only
reason I know this song? It's one of the "standards" that is in the series of piano books from which I used to teach. Otherwise, I would have been totally in the dark.
So all that said, the news story this morning, and these pictures that I took this evening, after the blazing heat subsided some, made for quite a nice day.
For her birthday, Caroline received a dress from Nana & Papa. This dress came with a matching dress for one of her baby dolls. This particular baby doll was "nekked" up until about an hour ago.
Since Caroline had worn
her
dress from this particular combo at the wedding yesterday, the doll dress was within her grasp. With Caroline, that's all it takes. She decided that not only did Baby Lily need a diaper -- she needed this dress.
Baby Lily's diaper is from a pack of preemie diapers we bought for this very purpose. However, being the smart parents we are -- those preemie diapers (read: EXPENSIVE) live in the upper portion of Caroline's closet -- out of reach. We only pull them down one at a time. At this rate, we've made one package of diapers last for nearly six months.
So, the following pictures are Caroline and her baby Lily. We couldn't take pictures like these
inside
the house. We went outside -- the temperatures had cooled considerably, and it was fun to capture two barefoot little girls in the setting sun.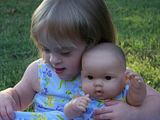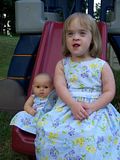 And yes, I know. . .you can't tell that they're bare-footed. Trust me. . . we all were. And yes, I know. . it's almost too sweet!
What can I say?