Illinois Vacation - Part 1
That's right. . . you're reading this like a Star Wars series of movies. I wrote them in reverse order -- but you're getting a chronological recap of the Illinois portion of our vacation. Not easy, let me tell you . . . but you all are worth it.
So, after you've read this blog entry, there are two more (with pictures and stories). You'll be hooked from minute #1, I promise!
On Friday, we arrived in Illinois. It was quite a trip down memory lane for me. As we drove through Indiana, I remembered the many times I had driven this route from Milligan to home. It's been well over 8 years since we drove north on Interstate 65, so this was fun--in a long, boring drive kind of way.
When we got to Crown Point, Indiana, we remembered what it means to celebrate Independence Day in a small Midwestern town. They shut down for the parade. Which means? The route across Hwy. 231 which takes you around the town square was NOT possible. No, our poor little GPS just about reached out and slapped the crap out of us for not paying attention.
Eventually, we made it through town -- racing the front of the parade. Once we got out, we headed for Illinois. And, suddenly -- there we were. We spent a couple hours seeing some of my old houses and schools. (Edison was thrilled. Trust me)
Here are some of those places. And, rather than write long stories about each one, I'll put captions. I fully intend to do some digi scrap pages of these places and memories. Here are the pictures: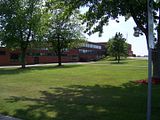 My high school. It's a 6th grade "center" now.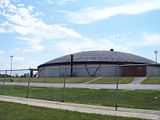 The "Dome" where I graduated from high school.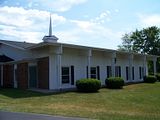 Deer Creek Christian Church -- where I was baptized, and where we got married.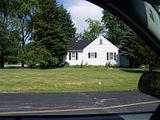 The house next door to the church. We lived there. It had a red door.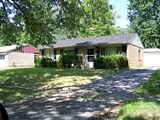 This house was where I lived from 3rd grade until 7th grade.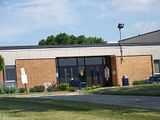 This is my elementary school - 3rd to 6th grade. It's now "Coretta Scott King Magnet School" Times have changed.
After we finished in University Park, we headed toward Monee. This was the first place I remember living. We moved to Monee when I was 3 years old -- and moved in the middle of my 3rd grade year.
All of my earliest memories are in this little town. Walking to the store for penny candy. Listening to the train go through town at night. Seeing the tiny red light on top of the water tower.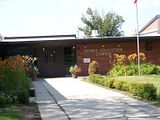 Monee Elementary School -- my first school.




Our house on Linden Avenue.





And, I cannot explain this. I cried when we got to the house. I don't know why. I guess I figured out the true meaning of the phrase, "You can't go home again." Because, suddenly, my life had passed -- and those memories in that sweet little bungalow home were just that. . . memories.
After we left the south suburbs, we headed toward the western suburbs. And, on our way, we went through Mark's old stomping grounds. We were able to show Edison a few sites of importance to us. Hopefully, you'll enjoy them, too. (Quasi-Celebrity sighting -- so, stay with me)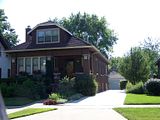 White's old house on Brainard Avenue. Mark lived here until we got married. We spent lots of time there -- during our dating days.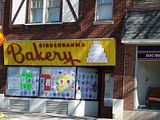 Kirschbaum's Bakery. Mark's favorite bakery of all time. Of course, they were closed for the month of July. Oh well. . .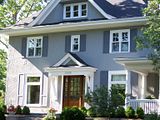 CELEBRITY HOUSE!!! This is the house where Tommy Shaw (guitarist from Styx) used to live back in the 80s.



So, there you have it. Part one is complete. Please read on for parts two and three. I promise they'll be worth it. How can I make that promise? I've already written them, remember?