There's Just No Way to Describe It. . .but I'll try!
Trying to describe our weekend working at Bristol is just too difficult. But, I've got lots of pictures, and two very sore knees, and two (continually) aching feet, so I will try. . .
When I came to TN in 1982, to enter college at Milligan, I guess I had heard of NASCAR. I didn't have any idea, however, the impact that the Fall Race at Bristol would make on a community, or a network of communities.
In upper East Tennessee, you are hard-pressed to find a hotel room within a 75-mile radius of Bristol, because of the races. . .especially the Fall race. And in 1982, the Fall race coincided with Orientation weekend. It didn't take the folks at Milligan long to figure out that changing the timing of orientation was beneficial. So, they did.
These days, it is nearly impossible to get through the town of Bristol during race weekend. Many of the locals leave town, and rent their houses out to race fans. I kid not. It's something that defies description.
Last year, DSAG (the Down syndrome support group with whom Mark and I work) were offered an opportunity to raise funds for our group by running a concession stand. We decided that it would be fun. We were right. What we didn't anticipate was the insane amount of work, time, and energy.
Last year? We raised about $1,500.
This year? We will probably double that amount.
Totally.worth.it.
For me, it's a chance to get sorta "up close and personal" to a sport I really love. And no, I still cannot explain why I love stock car racing so much. For those of you who have known me for years, I would imagine that this is quite a departure from what you would expect. But, it's just fun. I love it.
So, putting two things that I love together just seems natural. So, work we did. Here are the pictures: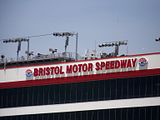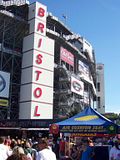 This is Bristol. It's a sea of people for 4-5 days. Literally -- 160,000 people fit in the stands. Amazing.

Mark happened to get a picture of just some of the Goodyear tires that would be used for the race. Oh, and that's Ryan Newman's car behind the tires.
Here, Mark happened to catch my favorite driver (have I mentioned Jeff Burton before?) and his crew, as they're making their way out of the garage. (AT&T suits)

This is the stadium -- now picture every seat full. Yeah, that's Bristol.

While Mark was out getting me my new Jeff Burton shirt -- he loves me -- he saw Michael Waltrip at the Toyota booth. Michael was being interviewed -- but was enjoying "people watching" as much as he enjoyed being interviewed. I love this guy!!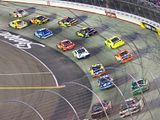 My pictures aren't necessarily in any specific order . . .but this gives you some idea of what it's like. It's loud. It's exciting. The colors are bright. It's amazing.


And, for the first time, my mom got to catch a little "NASCAR Fever!" She really enjoyed the flyovers (there were four of them!) and hearing the roar of the engines. It's hard to describe.


Our responsibility was a concession booth where we sold: hamburgers, cheeseburgers, hot dogs, chili dogs, nachos, nachos supreme (meat, salsa & sour cream added), hot pretzels, popcorn, chips, Pepsi, Diet Pepsi, Gatorade, Dr. Pepper, Mt. Dew, Sweet Tea, Bud, Bud Lite, Miller Lite, Coors Lite, and, of course bottled water.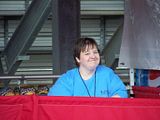 For the first time, we had a "beverage" booth across from the regular stand. I manned that booth most of the time for those two days. As a beverage stand, I had all the drink options and popcorn & chips. I also served as our group's "banker" which meant that I was responsible for counting all the money and preparing the deposits. That part was actually fun. You got "chauffered" around the track -- because they don't want you walking 1/2 mile with $10,000. So, I kind enjoyed being a "VIP" for the weekend!
This is the length of the regular booth. Six serving windows. Two prep lines (steamer tables). Kinda crowded -- kinda warm -- kinda cool!
Oh, remember what I said about people? Here's a little glimpse:
Yeah, I served half those people!
So, there you have Bristol, from my perspective, in a few pictures. I didn't do it justice, but I tried.
Oh, did I forget to tell the "Lick Daddy" story? Sorry. . . and yes, it
is
supposed to be "LIQ Daddy" but that's not nearly as exciting. Here's the scoop. . . .
Part of our booth's responsiblity was not only the "beverage" tent that I manned. . .but also a small cooler with "Liq" pops. Yes, that's right. We pandered to the lowest common denominator and peddled Margarita and Strawberry Daquiri flavored popsicles.
To make matters worse, the marketing campaign manager (we called him the PIMP) brought 3 hired models by to "hang around" the Liq Bar and market them to the consumers or would-be consumers. I think the picture says it all. . . .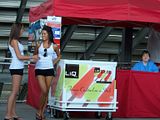 And yes, if you look closely, that is a somewhat disgusted look on my face. I believe one of my first comments was something like: "A healthy self-esteem is highly overrated!"
So, needless to say, some of the gentlemen in our concession booth were
more than willing
to man the Liq bar while the "Liq Girls" were there. Mark actually spent some "quality" time with Aleshia. (What an airhead) And, while he was being the benevolent "mentor," as it were, many pictures were taken of him. This set about the evolution of his new nickname "Liq Boy." Then, when Edison arrived at the track -- it somehow evolved into "Liq Daddy." But again, it made you more curious when I mis-spelled "liq" didn't it?
Yeah, I decided that the women's movement was set back 40 years by the presence of these (hussy) girls. But, it was a pretty lucrative marketing strategy for the company. How do I know? Well. . .we sold over 40 Liq bars on Friday. On Saturday. . .no girls. We sold seven bars. Need I say more?
In other news. . .there's a new phrase being uttered around our house.
It goes something (exactly) like this:
"I. . .do. . .by. . .self!" (I'll do it by myself)
This applies to everything from eating breakfast. . .to climbing in and out of her carseat. . .from taking off her clothes. . . to getting into bed. And, for the record, I love the independence and self-motivation. But, when you're ready to get in the house, and you've really got to use the potty, and you feel like you're going to just burst if you don't get in the house soon. . . well then, it drives you nuts.
I gave a "mother's perspective" presentation at South College today for some nursing students. (Hi, Megan!!) It was an awesome experience. Their professor (Hi, Linda!) wanted these nursing students to get a heart-to-heart "lesson" from mothers who have experience the anguish and joy of receiving their child's diagnosis of Down syndrome.
I tell you, every time I get to talk about Caroline in a setting like this, I cannot help but cry. I think it's just the absolute LOVE that swells within my heart -- and knowing that my sharing might change the way these students will talk to, and relate to parents in the future. . .well that part just blesses me in more ways than I can really express. These students had great questions for us -- they wanted to see our kids' pictures -- they hugged us. (Well, Megan hugged me!) They cherished our opinions, and listened to our stories. That made it all worthwhile.
I keep praying for more opportunities like this -- because I truly believe that's the reason we have Caroline. Sure, we've got her to love, and nurture, and raise to be a godly woman. But, she's also given us an opportunity to make an impact in the world -- and to show God's love in very unique ways.
Kinda makes me celebrate everytime I hear, "I . . .do. . .by. . .self!"
. . . .ya know???