Game on!
Edison's first football game took place tonight. It was a scrimmage, so it was a shortened version, and probably not as closely refereed as the "official" games will be. But still. . . .
They scored THREE touchdowns!
I don't think -- in the past two years that he has played -- that I have witnessed even ONE touchdown by his team, so this was monumental.
Caroline wasn't a big fan of the whistles -- but at one point, tried to run out on the field. So, it cannot be all bad, can it? Here are some pictures. . . .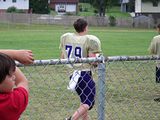 It was certainly easier to know which one was Edison. . .by the "tail" he tucked in his pants. It's a boy thing, I suppose. I have NO clue what its purpose was--other than to 'clue me in' on his whereabouts on the field!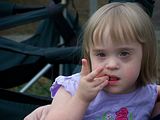 Yeah. . . "enchanted" would be one way to describe Caroline's reaction to the game. She actually enjoyed the cheerleaders more than the players. . . .go figure.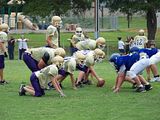 Kinda hard to tell--but he's the center -- the one holding the ball.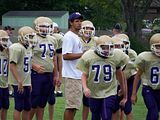 My baby boy is growing up way too fast! Mark said the cheerleaders were keeping an eye on him. I didn't see that. . .and usually I catch on pretty quickly to hussies eyeing my boy. But, I was also in "mother bear" mode because some of those opposing players were BIG.

Backtracking a bit. . .
I failed to put some pictures on the blog from our visit with the Swither's family on Sunday. They're down here -- well, in Pigeon Forge, actually -- for a family reunion with Steve's family. Having them at our house is like a family reunion.
Her boys were entranced with southern accents. They were "affected" by the desk clerk at their hotel on Saturday night. (I would DIE to know what they thought when they visited Dollywood this week!)
Here are some lovely (I think -- haven't taken them off the camera yet) picture. Enjoy!!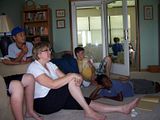 When I got home from church, the kids were already watching the Olympics. When we got done with lunch. . . back to China we went!
Becca and Caroline spent some quality time in the sunroom. Becca is their only daughter -- four brothers. Such a saint she is! And, Caroline loved the individual attention.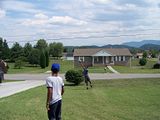 We attempted a group picture of both families. Of course, we had to interrupt the impromptu "Super Bowl" that erupted in the front yard. At some point, one of the boys said, "Hey Mom! Look at those MOUNTAINS!" We are blessed--we forget, sometimes--but, we are truly blessed.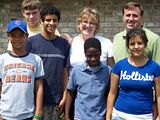 This is their BEAUTIFUL family. From L to R: Isaac, Sam (tall head in back), Jake, Julaine, Joey, Steve, Becca. I miss them so!!!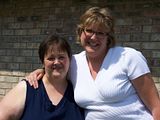 We have joked for many years that we are each other's best friend. I don't know if she still claims me as one, but in all my years, I have known very few people who allow me to be totally myself. I love you, girl! And yes, she IS stooping down to be on "my level" because she's that kind of friend.