Isn't She Lovely? (Warning: Long (overdue) post. . . but there are pictures!)
Who is "she?"
Who can "she" be?
There are lots of possibilities.
The "she" be many different people/places/things.
This is the first "she" and she be Judy.
Let me pause here to just reflect on what a blessing this year - especially the summer - has been for me. When we traveled to Illinois in July, I was able to meet up with Christy and her kids. I was also able to get "reconnected" with our friends in Wheaton. I was also able to reconnect with Doug & Kim (such laughs. . .such laughs). I was also able to reconnect with my best friend from junior high (that's what we called it back then) Sue. I was also able to reconnect with one of my dearest friends, Karen, from church back in the day.
So, this wasn't any ordinary vacation. For me, it was a chance to rekindle some relationships, and celebrate the path that I have traveled, lo, these many years.
But, I digress. Surprised? I thought not.
Since coming back home, I feel like I haven't stopped walking/running/jogging through the hoops of my general day-to-day life. Don't get me wrong -- I love my life -- but it's a busy one. And, although my word for the year is "Simplify" I have done precious little to make that word my true definition for the year.
A couple weeks ago, one of my blog friends mentioned that they'd be driving through Tennessee on their way to visit one of their (eleven!!) kids.
Judy
(Mid-Life Bliss) and I met earlier this year through, we believe, Joni's blog. We are both guessing that
Joni
is our "common denominator" in the blogosphere.
So....when Judy mentioned that she and Jim would be driving through TN on their way to NC to visit Jake, I casually mentioned that I-40 runs through Knoxville on its way from Nashville to parts & cities east of here.
Guess what happened?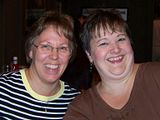 That's right. . . this past Sunday afternoon (and after the week we've had, it seems like YEARS AGO) Judy & Jim met up with our little family at the Cracker Barrel out on Straw Plains Pike! It was so much fun. In so many ways, I felt like I was back on vacation -- reminisching with an old friend. And yet, so much of our conversation was spent getting Jim and Mark "caught up" on each others' families. But we had an awesome time.
Judy -- thank you so much for "getting brave" with me. I love the fact that the minute you came through that door, I knew it was you -- and I could see that you recognized me, too. So very, very cool.
Next on my list of blog friends to see. . .? Well, that would be
Julie
. She and Randy (and the boys) are coming to visit Jane & Stan, and we're going to have a shrimp boil out at Stan & Jane's on Tuesday night with my parents. Should be lots of fun . . .and lots of delicious food. Who could ask for more?
After that. . . .well, Steve & Julaine (friends from Wheaton) are coming through on Saturday the 9th. We're going to meet up with them on Saturday--and they'll be coming to church with us on Sunday (Hi Julaine!). They, along with their
five kids
will come over to our house after church for some sort of food "freeforall!" It will be lots of fun. . .loads of laughs. . .and hopefully, we won't push their daughter Becca too far. She and Caroline (separated by 12 years or so) will be the ONLY girls here -- amidst five boys ranging in age from 10 to 17. Yeah, it's going to be Testosterone Central here, but I cannot wait!
THEN. . .I know, you thought I was done, but I'm not. My sister and her husband and kids are coming for a visit that same weekend. So, we'll do "family stuff" including Edison's first football game for the year! Did I mention that his school starts a week from Monday! Yikes!!!
AND there's a good chance that one of our friends from our childhood will be "driving through" on her way from Nebraska to Hilton Head, of all places. So, we will get to see Kim and her five kids,
hopefully
as they make their cross-country trek!
See? That was its own blog post. But you know me. . . I started a theme here, and I'll be dipped and fried before I'm going to give up on it!
"
Isn't she lovely. .. isn't she wonderful?" So, who is she?
Well, in this scenario. . . let's call "she" my new oven! That's right, the wonderful men from Lowe's delivered "Vera" my new stainless steel range yesterday -- while I was at work. Mark and Edison kept a close eye on things as she was delivered. Here you see Vera's predecessor and Vera. Isn't she lovely??
Will I really call her Vera? Most likely not. But, it was the first name that sprung to my mind. I suppose other names would be appropriate. . . say, "Blanche?"
Sorry, it's been a long week.

I did use
her
tonight for the first time. I baked some muffins -- and to my delight -- they didn't stick or burn on the bottom. The house does kind of have that "new oven" smell. It's not as scrumptious as "new car" smell. There's a few "things" that needed to be baked out of the oven. . . in another day or so, it should be fine.
Okay, the last two title references will be a bit more personal. For one, remember this. . .?
Well, last week -- almost two weeks ago -- Edison's braces came off. It's amazing how his smile has changed, and how he smiles more often. I remember that feeling. It was totally worth it. What a cutie!
Then, the last "Isn't She Lovely" has to be Caroline. I know it's been a while since I have posted a picture -- or even scrapped a page of her. (Let's just be clear here -- I haven't done any scrapbooking since I came back from my "trip" out to Sevierville. That makes me sad.)
Here are a few pics I took at the Cracker Barrel on Sunday, when we were waiting for the valet (Mark) to bring the car around.
And the others would be pictures of Caroline and Dr. Jennings, her wonderful cardiologist. We had an amazing visit with him the other day. What a great guy!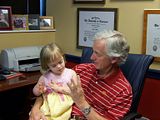 Oh. . I would be remiss if I didn't mention that Mark is doing some better after his surgery. Still not ready to go out and run a marathon, or anything. But, he's getting there.

AND. . . .I would be remiss if I didn't mention (and show you) what one of my beloved co-workers (and his wife) put on my desk while I was gone for Mark's surgery. You have to be a fan of The Office to really appreciate it.
Yes, that
is
jello. And
yes, that is
my stapler suspended inside the jello. I guess this makes me Dwight, eh? Sigh.
And the last thing?
OH MY GOODNESS.
How did this happen?
How did five years of the show "Monk" occur and I didn't catch on? I am now totally obsessed with Monk. I love it. Edison loves it. Mark is beginning to like it.

I'm not going to abandon my first-loves when it comes to television. . . Law & Order and Law & Order:CI. But still. . . .Adrian Monk, where have you been all my adult-TV-watching life? Holy cow, that show is funny.

I guess that's it. I hope I made you hum a little. . .laugh a little. . .smile a little.


"Isn't she lovely?
Isn't she wonderful?
Isn't she precious?

Less than one minute old. . . "
Believe it or not, I'm editing this -- I thought you should know that the muffins were a hit. The first batch (that's right, I made more than one batch) was out of a mix. But, the 2nd batch was homemade raisin bran muffins (yum!) and they turned out beautiful, as well.