All that clay. . . . it's such a disgrace!
No, I am NOT talking about the California Raisin cartoons of the early 90s. (those were so creepy)
And no, I am NOT talking about the love scene in "Ghost" where Patrick and Demi got all hot & bothered to the tune of "Unchained Melody" while spinning clay. Again, ICK.
I'm actually talking about the death of dozens of clay pigeons today -- at the hands of some of Edison and his friends. You see, Edison took a hunter safety course that was offered at his school over the past couple of weeks. Being the good Republicans that we are, we decided to enroll Edison in the class. Next step? His membership in the NRA.
Okay, the
real story
is that Mark and I both feel that gun safety -- especially in the arena of sport hunting, etc., is crucial. It's life-saving. And, because Edison has shown some interest in these areas, we wanted him to take a state-approved hunter safety course.
I am pleased to report that he passed the 100-question test with a 95! According to Edison, it was all
common sense.
I don't doubt that for a minute. However, using the excuse of
It's just common sense, Mom,
was his excuse not to study, if you ask me. Regardless, he passed.
After the written exam, they took the kids out to a private farm, where they practiced some skeet shooting. Edison, of course, regaled us with stories of how it was so easy -- and that he hit two out of three pigeons. That's right -- somewhere in the Seven Islands area, there are clay pigeons roaming around, hopelessly looking for their other friends who managed to escape from the rest of the middle schoolers. Oy.
He did well. That's what's most important to me. Mark said that he was safe, and that he was very careful and respectful of the instructor. Wanna see some pics? Here you go. . .
Here's the motley bunch getting their last-minute instructions before actually shooting: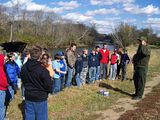 And here's my boy, taking shot at some renegade clay pigeons: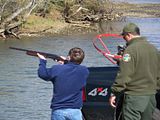 Now onto the finer things in life. Our friends, John & Laura West: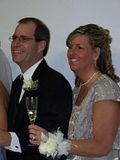 . . . asked me to play at their daughter Ashley's wedding today. I did. It was fun. It was interesting. I have to say that there are some people born to be wedding coordinators. Others? Not so much. Regardless, it was a fun day for our little Princess to get all dressed up and enjoy being a little girl.
My favorite part of the day? Well, that's obvious. When the singer was singing "When You Say Nothing at All," in the front of the church, I could see Mark dancing with Caroline in the foyer.
Yeah. . .Caroline still doesn't have the "talk quietly or whisper in church" thing down. So, many funerals and weddings are spent with Caroline in the foyer.
Oh well, she sure looks cute all dressed up! Wanna see? I thought you might: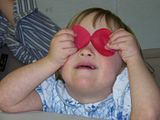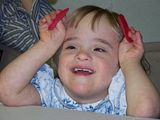 Yeah, she decided to play "peek-a-boo" with the rose petals on the reception tables. Quite inventive, actually.
This weekend has been busy -- but I have a feeling the next couple are going to be every bit as busy as this one was. We will celebrate Edison's birthday next Saturday -- Mark's mom and dad are headed our direction -- and we're looking at a football banquet AND a birthday party that Caroline was invited to attend.
Yeah. . .this week is gonna
rock!