New Layouts
I got a couple layouts done tonight. I'm pleased with the way they turned out. They are two completely different subjects -- two completely different designers.
I like the contrast.
The first is by a new designer named "Christina Sturmaggio" who is designing for Sophia Sarducci designs. Her kit, "Venezia" is very rich and robust. I decided to use some of our anniversary pictures from a couple years ago when we went to the Bilmore Estate.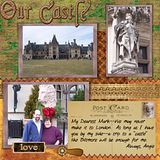 This second layout uses one of my favorite pictures of Edison and Caroline. This was taken back when we were taking our first official Christmas picture of the two kids. There are a number of pictures in this set. I realized, as I was preparing the layout, that we couldn't get Caroline to lay still for something like this even if we promised her all the goldfish crackers in the world! LOL!
Finally, I'm sending a link to a
layout
that you need to go see. Using the pictures from my pictures entry the other day, my dear friend Beth absolutely made my day! (Click on the word "layout" and it will take you to the site where she posted the layout).
I love you, Beth!!!