Two Tired Kids
That's right. . .by 10 p.m. tonight, I had two extremely exhausted children in bed. . . asleep.
Caroline and I enjoyed a non-stop day. She had school, which was good. She's kind of enduring a self-imposed hunger strike as of late. She refuses to eat lunch at school - - specifically her peanut butter & jelly sandwich. She does, however, eat them at home.
Today, we sent a container of applesauce, which she scarfed, according to her teacher. She also put her backpack into a cubby without being prompted. I said
"a"
cubby, because it wasn't her cubby, but she still managed to do the appropriate action without being reminded.
When she got off the bus, we headed to the grocery store to pick up Edison's allergy medicine prescription. His doctor prescribed Clarinex, even though he has no allergies. I believe his words were something to the effect of, ". . . anything to help him stop snoring. . ."
Can I get a "wha-wha?!" Tonight he took Benadryl--I guess he figure the sheer exhaustion from a football game wasn't going to insure a good night's sleep.
Sorry, slight digression there. . . after picking up the Clarinex, we ran back to the house to pick up the lunch for Edison that he needed before his game.
Oh, did I mention that Caroline has taken her "show on the road. . .?" That's right, as we were finishing up at Kroger, I look down, and see that she has stripped off her shirt, and has thrown it on the floor.
So proud. I am so proud.
We dropped off Edison's lunch, and headed back to the house. We threw together a quick supper, and got ready to go to Edison's game.
No. They didn't win. But, they did an awesome job. I am going to attempt to upload some pictures from the game. We'll see how that goes.
Caroline has decided that not only is she
not
a fan of middle school football, she also doesn't like the refs' whistles, the screaming fans, and the noise from the announcer. She cried. I actually was heard at one point to say, "Come on, Caroline. Suck it up. You can take it. Get used to it."
I know. I'm not a stellar mother. . . but by the 3rd quarter, she was cheering for the boys, and looking for her "brover."
I am so proud of Edison. He did a great job. He played the majority of the game--sitting out for only 3 or 4 plays. He encouraged his team members, and most importantly--played his heart out.
Here you go. . . eat your heart out, Sports Illustrated. . .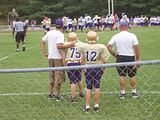 Coach Ty giving Edison instructions before sending him back in.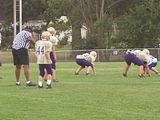 Edison is very proud of his football stance. I think he practices it when we're not looking.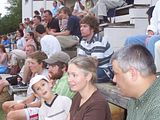 We were thrilled to see so many friends from church who came out to the game. Our youth minister Tim (red beard & hat), our youth ministry intern, Chad (gray & white shirt), Christian, one of the kids from the youth group (blonde - light gray t-shirt), and the Kuhn's - Elam wearing a hat & Glen & Tracy up front. That meant a lot.
Finally, one great action shot that Mark captured. That's my boy . . .Number 79. That's
my
boy.