New Layout
I'm awful tired. . .my Wednesday just about broke me. But, I did manage to finish up a layout with Christina Sturmaggio's new kit, 'Wrought Iron Butterfly' which is available at sophiasarducci.com.
I'm sure there'll be more to ruminate about tomorrow. For now, please enjoy this precious picture of my baby girl and my dad--dancing at Natalie & Tim's wedding back in March. I have been waiting for just the right time and kit to scrap this picture!!
(Click on picture to enlarge)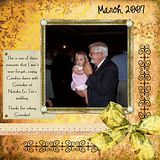 Happy Thursday!!