Six Thousand Words. . . .
Just trying to share the love. . .and catch you up on some recent events.
The first picture is from the WalMart presentation a week and a half ago. Behind me (to the left) is our buddy, Jay Huff, who manages a WalMart store in North Knoxville. Next to him is Melissa Ownby, manager of our local WalMart. Next to Caroline & Mark is the Rucker Family. Kristy, Doris, and Jim have become our friends through DSAG. Kristy is a hoot. They are a very loving, supportive family. They inspire me every time we get together with them.
These next two pictures are from Caroline's Christmas program at Mother's Day Out. I was so proud of her. Not only did she remain where she was supposed to be, she smiled, and jingled that bell.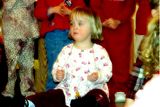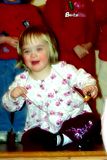 This is from this morning. Mark and Caroline always come to church after Edison and I go in early. Often, Mark will take a minute and take her picture--especially when she's wearing a new dress. This is her Christmas dress. As someone put it today, it's very "me" in its style. If I had my way, all of Caroline's dresses would be slightly old-fashioned with that cute little Peter Pan collar on them.
Mark also took a few pictures of treasured ornaments this morning. This first one is from our visit to Biltmore Estate a couple of years ago. That has become a tradition. . . buying a Christmas ornament from whatever place we find ourselves on vacation. We have some very special ornaments because of this tradition.
This next ornament is one I made (probably) 12 years ago. Back when Edison was a baby, a friend from Illinois invited me to take part in a craft show/open house she held in her home. I made simple cross-stitch ornaments, and patchwork items, like this stocking. Every year that I participated, I made money. A couple years, it was some serious money. I've entertained thoughts of doing it again, but life is way too busy these days for crafting a that level.
Sorry that this post is so late in the day. Our internet service has been intermittent (my kind word) all afternoon. Thankfully, Blogger saved my draft of this post, otherwise, I'd have been in tears somewhere.
Edison and I did a little more last-minute shopping tonight. Mark's going to go visit the elves in a few minutes. . . after giving Caroline her bath.
This, by the way, is her 2nd bath of the day. That's right, we played in poo-poo again this afternoon. . .at least I wasn't home alone dealing with it. And yes, my nose is working better. Thanks for remembering.
Thought I'd share another recipe from our "stash" this year. I made these last night. I forgot how good they are.
Sugared Almonds
3 c. whole, natural almonds
2 c. sugar
1 c. water
Bring to a boil over medium-high heat. Continue cooking (stirring sorta constantly) until they are sandy. It will take a while....12 - 14 minutes. Once they turn sandy, turn the heat down and continue cooking them over low heat until the sugar begins to carmelize. At this point, be prepared to turn them out onto a greased cookie sheet. They will need to cool before being broken apart and enjoyed.
Note: You can eat them at the "sandy" stage, too - but they're not as tasty as when they carmelize. I began these in a 3-qt saucepan, and moved them to my 6 qt dutch oven. When they become "sandy" they are trickier to stir than I remembered. Regardless, they are a delicious treat. If we have any left, they'd be great tossed on a salad.

Oh. . . .the meaning of the title? If a picture is worth a thousand words, this post is. . . . see what I did there?
Merry Christmas "Adam!" (he arrived before Eve)