Just Another Manic Monday
". . . wish it was Sunday. . . oh oh, 'cause that's my fun day. . . but it's just another manic Monday."
But no, it's not Sunday. It's Monday. State-of-the-Union Monday. And, although I have supported GW in the past. . . I'm not looking forward to this year's State of the Union address. In fact, my wonderful husband got me the DVD series for "Studio 60 on the Sunset Strip," for Christmas. I'm going to watch a couple episodes tonight, and blow off the State. . Union speech.
Now, back in our homeschool days. . . ? I'd keep Edison up, and make him watch it. We called it History. This year, it's in that twilight time just before his official bedtime, so I'm going to let him brush his teeth, and read the HP book he's currently reading, and call it a night.
Me? Other than watching Studio 60, I'm going to continue working on the quilt project I started last night. That's right -- I said I actually did some quilting last night!!
And no, it is NOT one of the aforementioned projects in a previous post. This is a wall quilt for my kitchen. There's a blank space behind the table (looking in from the living room) and it needs
something
. So, I've started a "sticks & stones" project with shades of blue and gold and tan. I got the stones blocks done last night. It will be 5 (squares) by 5 (squares). Each block is 6" - and then there'll be some sort of border. I really like it, so far. I like the gold fabric so much, I'm going to run on my lunch hour and pick up another yard at our local quilt shop (just around the corner from the church -- literally) for a table runner.
I went searching on the web for a picture of the sticks & stones pattern. What I found is that
many, many
quilts go by that name. Then, I found someone who is making the same quilt from the same pattern. Here's a picture that will give you some idea: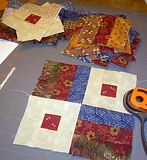 In my version, the red square in the middle of the "stone" blocks is actually dark blue, and the fabric around it is a light gold with a (very busy) black "stitching" pattern on it. Then, the "sticks" blocks are a tan strip, a medium blue patterned strip, and a dark blue gingham. I think it's going to go allright. This particular example is more of a "Log Cabin" feel, but I think it's going to be quite nice when she gets it done. (looking back at her blog, she posted this a year ago. . .unless she quilts like me, she's probably already finished it)
So, there it goes. I did a little quilting last night. I need to do some more.
I cooked a chicken for lunch yesterday -- made chicken salad
and
homemade chicken stock with the leftovers. (Look out, Becky Homecky!)
Tonight, I think it will be a basic dinner-- maybe hot dogs. How pathetic is that?
After dinner (Sorry Tom, I nearly typed supper!) it will be back to the sewing table.
Oh, and for those of you who have been wondering. . . .our church did indeed elect a new lead pastor yesterday. And we are GLAD. Very, very glad. He and his wife will arrive in town on Friday. He's preaching Sunday.
God is good.