PotPourri
This will be one of those posts that will leave you (hopefully not) scratching your heads. I just have lots of little random things to put in here. Bear with me, it will be kind of fun when it's all over. . .
I think in every little girl's life, she decides that wearing Daddy's clothes is a fun thing. Of course, Caroline doesn't limit herself to Daddy's clothes. She often parades around the house in just about anything when we're folding laundry. No one, and no article of clothing is safe. Use your imagination. Yep, we go there. But on this particular day, she decided Daddy's fleece jacket was exactly what she needed to wear.
I think it looks cute on her, don't you? I think Edison's closet will probably be her next stop.
Then there's the quilt project of which I have been typing. Here's the completed top and the border fabric I've chosen, but haven't yet attached:
I really am liking the coordination of the fabrics. Of course, you have to use your scraps. . (right Judy??). So, here's the candle mat. . .or hot pad. . . or mini table runner I made with scraps:
I really am a huge fan of the Log Cabin pattern.
After completing those projects, I decided to start another rag quilt (Mark and I each need one in the living room) with the homespun fabric I "found" in my stash. Here's the beginning of the process. . .cutting rectangles:
And, lest you wonder about said "stash" that was hidden away in Caroline's closet, here it is. Bear in mind, there are about four (4) more rubbermaid boxes of fabric in *my* closet. But, this is the bulk: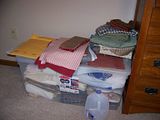 Other things that deserve a mention:
1) Mark and I went out to lunch today, to meet one of our dearest friends from Illinois, who was in town -- just passing through. David is the Director of the Archives and Special Collections at Wheaton College. He and his wife, Kelly, were some of our first neighbors in the condo we bought in Wheaton. . .back before Edison (just barely). David and one of the professors that I worked for at Wheaton, were coming back through Knoxville, having been at King College this weekend. It was a delight to have lunch with David and Jill, and reacquaint myself with old friends. (The caesar salad with grilled salmon wasn't too shabby, either!)
2) Tonight, at choir practice, I shared my current story with the choir. They are my family. They are a wonderful group of people who love me so very much. I am truly blessed. When I was done weeping my way through (but not as bad as it could have been) they gathered around me, and laid hands on me and prayed. It was so precious. So sweet. So in the presence.
On Sunday morning, the elders of our church are going to lay hands on me and pray for healing. I wrestled with whether or not to have them do this. . . part of me wants to maintain that I don't need healing if I believe God is going to carry me through this. But I was reminded by an old friend that until I reach heaven. . .I'm not whole. Until that time, asking for the elders to pray over me is a natural response to a situation like this.
3) Tonight, while I was getting ready for my two rehearsals, Mark fed the kids their supper. (sloppy joes & fries) While Caroline was waiting for her food, he said that she started spontaneously singing, "How Great is our God" by herself. Usually we sing this together -- and she fills in the words that I omit. Mark said the most precious part was when she sang the words, "Come on, sing with me. . ." I am so blessed by this little girl--I can't put it into words.
4) My homework has been such a blessing in the Beth Moore study. I have one more day -- and thankfully, tomorrow night is the next session. It has really been a spiritual boost for me. And, I truly do believe God is making a difference in the lives of all the women that are participating in this study. I know He's doing a number on me.
Well, that's about all for this sordid and random post. If you've made it this far, you deserve a prize. I have a table runner/candle mat/hot pad. . . no, wait! I really do want that to go with my wall quilt.
Never mind. . . . .