Sprinkles, Strawberries and Dancing Princesses
I know, I know. . .two posts in one day. But they are so different in focus. Please be kind, and look at the previous post as well. It includes house pictures!!
Here are a few shots from our Valentine's Day celebration:
1) Decorating and eating cupcakes. I'm sorry, "Puh-cakes" is the literal pronunciation.
Edison's place:
And what self-respecting Princess Bear doesn't perform a dance for her new adoptive family? I mean, the nerve!!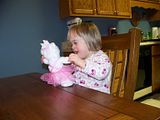 Last thing, and I'll stop. Really, I will. Had my follow-up visit with Dr. McPersonality this morning. He checked all things out, and had me get dressed and leave within 4 minutes. I have to see him in a year, following a routine mammogram. That's it.
. . .And yes, if you must know, I did walk out of his office humming "Touch me in the morning, and then just walk away. . ." and I was grinning from ear to ear.