What's a Girl to Do?
"Eat ice cream."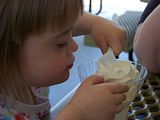 Yesterday was the perfect day to get ice cream after picking Edison up from school. It was warm and sunny, and at Sonic, it was "Happy Hour" and all drinks and slushes were half-price. Of course, Mommy was the only one to get a drink that was half-off. Caroline, as you see, had ice cream. And big brother????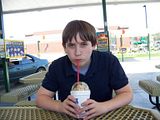 A root beer float.
Oh well, it was delicious and fun. We followed that trip with a stop at the store for some pots for outdoor plants, potting soil, and then off to the garden center for plants.
One RED gerber daisy
One white geranium
Lots of asparagus ferns (my faves)
Two lavender plants
One rosemary plant
And, we are officially gardening for the year.
When Mark came home, we cleaned out flower beds of "extra" leaves that got blown into them during the winter months. We even uncovered some lily plants. Go figure.
Every muscle I own from my shoulders down to my calves aches from the work -- but it was sooooooo worth it! I'll take pictures today when I get back from a 2nd trip to the store for more containers. (I never buy enough, oddly)
I also have to run to the grocery store for Monster Cookie ingredients. Our college ministry is holding a coffee house tonight, and I promised cookies. That will be fun.
Tomorrow is DSAG's Zoo Day. They are predicting rain. Please pray with us that the forecasters are wrong. We have a little girl that is very excited about seeing elephants, tigers, and bears (Grrrrrr!)
So, we have all the classic signs of a busy weekend here. What else is new??? I hope to post again tomorrow evening with lovely pictures from a SUNNY day at the zoo.
Until then. . .or until I think of something else to blog about. . . .Happy Friday!!