Close the Windows - it's a Holiday - and some new layouts
Today was Good Friday. By all accounts, we celebrated the holiday. However, Caroline still had physical therapy and speech therapy, so we all packed up the van, and headed west.
Mark and Edison dropped us off at therapy, and headed to our favorite Used Book & CD store. Remember those posts about cleaning house? Edison and I were able to cash in some old books, CDs, and DVDs to the tune of over $100. This money (as we had agreed) went toward Edison's guitar fund.
And, with that money, and the money he'd saved. . . he bought a guitar. (pictures & posts to follow). Mark helped him pick out a guitar stand, and the handy-dandy salesman tuned it for us. So, during various hours of the day, you can hear the strains of an E chord, and the various A and D chords. I'm very proud of him. I'm thankful, too. He wanted and electric guitar.
After guitar shopping, we went out to lunch. Puleo's Grille is quickly becoming one of my favorite restaurants. I had the chicken penne pasta (with mushrooms, tomatoes, and grilled chicken). Oh my goodness. . .it was wonderful. Kids ate well. Mark had spaghetti, and liked the sausage, but not the sauce. Still, all in all, it was a good day out.
I went in to the office for a few hours. Still had some "pre-Easter" stuff to do. Once it was done, I came home, made dinner (leftovers) and relaxed some this evening.
We are in the process of purging and cleansing the laptop computer. It has this strange habit of going "wonky" on me (as Melany would say). It's especially bad when we're trying to chat online. So, after completely cleaning it off, Mark will reinstall everything, and I'll cross my fingers that it all comes back.
For the past 12 hours, we have been dumping files to an external hard drive. It's bizarre to see all your photos, digital layouts, and precious files being transferred from the only home they've known. But, I'm confident that it will be allright.
Before purging the laptop, I managed to get a couple of layouts done. I did
this
layout of Caroline using one of my favorite designers, Miss Mint. Her stuff is so much fun. She even commented in her gallery that she liked my layout. That was cool.
In Butternug Squash News, Christy is re-releasing a kit this week. I haven't downloaded it yet. Once I do, I have the perfect picture of Edison to scrap. She's also featuring one of her "Conservatory" kits this week. I had used the purple kit before, but not the pink. Here's my layout of the pink kit. I "scraplifted" my friend Lori, who did a layout of her beautiful great-niece. You can see her layout
here
. Here's my tribute to Lori's great layout: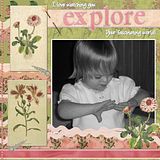 This next layout is one that Christy began for me - with that recent picture of Caroline and Edison from my front porch. She actually painted me into a corner that I totally dig. She sent me the file in a format that I could only finish in Photoshop. I was able (with Melany's online help) to add the journaling that this beautiful layout needed. Trust me, that was the ONLY thing it needed. Here you go:
Christy also encouraged me to read a book called the "Memory Keeper's Daughter." It is already proving to be one of the most difficult books I've ever read. I'm only at the beginning of chapter 3, but I can tell this much. . . set in 1964, a doctor and his wife give birth to twins. The son is fine. The daughter is born with Down syndrome. The doctor tells his nurse to take the baby girl to an institution (1964, remember that) and she agrees. BUT, when she gets there, she can't leave the baby. She runs away, and raises her as her own. Meanwhile, the doctor tells his wife that she did have twins, but that the baby girl died.
Like I said, this is going to be one of the most difficult, yet rewarding (I hope) books I've ever read. I talked to Caroline's physical therapist about the book. She read it last year in her book club. When I initially talked to her about the book, I had not yet started reading it. I asked her if I was going to be allright reading it. Her quote: "You will
now.
"
Trust me, I'll keep you posted.
So there you have another day in the life of me. It's nothing to alert the media about - but it seemed like it was worth typing about. You be the judge!