Baby Beatles and Guava-Flavored Sorbet
Edited: Sorry for the delay/teaser!
I've been meaning to blog about these two things, and I figured if I didn't leave myself a little reminder, I'd forget all about it!
Baby Beatles. . .
For the last week or so, we have been letting Caroline listen to music as she goes off to sleep. It has been, for the most part, a successful venture. The music of choice? "Baby Beatles" It is the most precious CD. "Strawberry Fields" and "Here Comes the Sun" How can I express how sweet this is?! I have no words. Just take it from me. It's precious.
Guava Sorbet? Maybe a little papaya?

I'm (way) too excited about my new job as a Creative Team member for Christy Sturm (Butternug Squash Designs). She has inspired me, and trusted me to help promote her beautiful digital scrapbooking business. I was able to complete my first official "CT" layout. I chose to do a 2-page layout about my kitchen.
Her latest kit is called "Tropical Sorbet." Guava, papaya, mango. Really fun, delicious colors. Made scrapping this assignment lots of fun.
What did I do? Well, to be honest, I just re-arranged the appliances in my kitchen. No, not the big ones. The small ones (microwave and mixer). The overall countertop layout makes for a cleaner, more streamlined work surface. I love it.
So, here's my 2-page "Tropical Sorbet" layout about my kitchen featuring a "Guava Alpha" from my buddy, Christy. I really enjoyed this layout, and look forward to many more.
I also purchased a kit from Laura Pitman, who is a designer over at Elemental Scraps (a new site where I post my layouts). Her kit, "Comfortable Country" really suits my taste. I love the rich country colors, and the stitching just makes me shiver. I love adding stitching to digi-layouts.
My final layout to post is the compilation of a few free kits I downloaded and an old picture of Caroline that I'd never scrapped before. I cannot believe that this little girl will be three in just a few weeks. Where does the time go?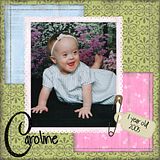 Have a great rest of the week. We're at T-minus 2 days until the wedding. My friend Stephanie braided her hair the other day, in order to accommodate the tiara. Yes, I said a tiara. Here's a preview of Saturday's princess!
"Here comes the sun. . . doot doo doo doo. . .here comes the sun, and I say it's allright!"
Oh, one last thing. . . today (3/21) is World Down Syndrome Day. It's an easy thing to remember. . "3" of the "21st" chromosome! As my friend and "employer"
Christy
says, it's a celebration of something "extra" that our kids bring to the table. A little extra kindness. . . a little more time . . .and a lot more love. Happy World Down Syndrome Day on behalf of Caroline and Henry!