Hold Onto Your Hats!
I'm going to string together three or four bizarre items. I know, I know, like I've never done THAT before on this blog.
Oh well, it's Saturday night (Super Bowl Eve) and since I *do* have responsibilities tomorrow morning, I'm going to get this on here, and go to bed. (Angie suddenly remembers to upload pics to photobucket while typing text) Be right back. . .
Things are going well. The boys are better. Both are still a bit puny, but they're upright, and eating food with texture and taste. (Delicious in both, I might add) Edison is working feverishly to get his Science Fair Display Board made this weekend (specifically before the SuperBowl Party tomorrow night) and he's made some great progress. Or, should I say, "We" have made some great progress.
Okay, photos are uploading. By the time I get done writing, they should be ready to insert. Going back through, I found a few more to spice this entry up. I told you to hang onto your hats.
Here's a picture that Mark captured the other morning while taking Edison to school. It was a beautiful sunrise. I was so proud of him -- for two reasons. 1) He came in and grabbed the camera and got these great shots, but more importantly: 2) he didn't wake me up to see the sunrise. Smart man.....I'm married to a smart man.
Next, I want to share the (promised) picture of what I swear is the most beautiful baby I've ever seen. And yes, I have two children, two nephews, and a niece. Carson is more beautiful. He has to be one of the most beautiful babies I have ever laid eyes on. See?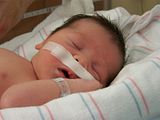 Edison's Science Fair Project will get its own post, I'm sure, when it's complete. But here are a few pictures from our work tonight. I really am proud of him. . . especially when you consider that this display isn't due for another week and a half! Smart boy.....I'm raising a smart boy.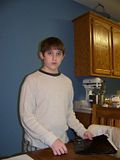 (note the joyous expression on his precious face)
Penultimately (for those too lazy, it means "next to last" on the agenda). . . .these muffins. I wanted to make something to go with dinner tonight. Some sort of muffin was what I was seeking. Applesauce muffins. Yeah, that was what I wanted.
I found this recipe for an Applesauce Oat Muffin. I had all the necessary ingredients (and most of you should have them on hand all the time). I even got out the Weight Watchers points calculator, and because they're a fairly low-fat, high fiber muffin, each one only has four (4) points. But the proof of the pudding is in the tasting, or so I've heard.
Oh.my.goodness. Ann (mamachef) this recipe is for you!! These are delicious. I skipped rice with my dinner tonight, so that I could have a muffin for dessert, and another one for a late snack (with a piece of lowfat string cheese) YUMMMMMMMMMY!!!!
Here's the recipe. My source? Why Taste of Home, of course!!
Applesauce Oat Muffins
1 1/2 c. quick cooking oats
1 1/4 c. all-purpose flour
1/2 c. packed brown sugar
1 t. baking powder
3/4 t. baking soda
3/4 t. cinnamon
1/2 t. salt
1 c. unsweetened applesauce
1/2 c. skim milk
3 T canola oil
1 egg white
Topping:
1/3 c. quick-cooking oats
1 T brown sugar
1/8 t. cinnamon
1 T butter (melted)
In a large bowl, combine the first seven (7) ingredients. In another bowl mis together the applesauce, egg white, milk, and oil. Stir into the dry ingredeints just until moistened.
Fill muffin cups (sprayed with PAM) three-fourths full.
Combine topping ingredients, sprinkle over muffin batter. Bake at 400 degrees for 16-18 minutes. Cool for 10 minutes before removing to a wire rack. Store in an airtight container.
Vital stats: calories (222), fat (6g), fiber (2 g). Diabetic exchanges: 2 starch, 1 fat, 1/2 fruit
WW Points: Only FOUR baby!!!
Finally, my thoughts for this week. God certainly does have ways of allowing us to be "distracted" by our everyday lives--even in the midst of trials. I admit that, although I do want to get through Wednesday's procedure quickly, there still is no distress (other than waiting and wondering). So many other men and women are going through trials so much worse than I am enduring at this time.
But, this week has certainly had moments where I have been able (or forced) to forget about my troubles, and focus myself on other things.
God's kinda cool like that. And when he doesn't give you such monumental distractions, you just have to find joy and a bit of distraction in the two funniest kids ever placed on the earth!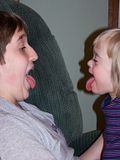 Happy Super Bowl Sunday, everyone! (Go. . . . well, I really don't care *who* wins!)