Love Grows Where my Rosemary Goes. . .
. . .Helen, there's nothing cryptic about this title at all. It's the song running through my head this morning. Where did it come from? Here's my theory. . .
I have just read through my blogroll. Seriously. I read them all . . . don't go check your sitemeter. Trust me. But, it took me nearly an hour to read through everything. And yes, I *am* at the office! If anyone (besides Mark, of course) knew how much time my job encroaches into my *out of office* life, they wouldn't question this one bit. Anyway, I just read the blogs listed to the right (not the sites, but the blogs). I haven't visited some of the sites (CM, DSAG, etc.) in a while. That will have to wait for another morning.
But what blew my mind was that it took nearly an hour to read (and comment) on these blogs! I cannot get over how this list has grown. . . and there are a couple that are missing. (Katherine, I need to put yours on there!) And, there are a couple of blogs that are password protected. I don't put them out here (to the right) because I wouldn't want to frustrate you -- you know, be a blogtease, and all.
But, this list has grown from the initial 4 or 5 blogs that I started reading when I first began blogging, to how ever many are there now. And, I just got that song in my head over the idea of friendships growing. . .and you know love grows. . . come on, those of you over 35 are humming it, too. (Admit it!)
There's not a whole lot to report from the Aubrey household. We *tried* to enjoy the NASCAR race yesterday, but they were delayed (multiple times) by rain. Seriously, we spent more time watching NASCAR get in 75 laps yesterday than we did the entire Daytona 500. But, I think I realized yesterday what I enjoy so much about NASCAR. The people. The drivers. The crew chiefs. The families that travel around with them. The commentators (the Fox guys, especially). I love it all.
There are people who claim that it is not a sport, per se. Maybe it's not a physical challenge in the same way as, say, the UT Men's Basketball team (which is #1 in the nation right now) but there are still physical challenge. If you don't believe me, go hop in your car, and drive 500 miles. Go on, do it. Get in your car--oh, did I mention, if you have to . . .er, well. . . let's say
use the ladies room???
You can't.
Oh, and if you get hungry. You can't eat. Thirsty? There's a tube. Oh, and you need to drive your car as fast as you can. And, just for fun, let's put 42 other cars with you -- and let's reduce you to four or five city blocks. You can only turn left, and your tires will be treadless.
It's a sport. There's danger. There are rules. There is competition.
I cannot believe I just spent 5 minutes justifying NASCAR as a sport. But hey, it was a fun exercise in debating skills that I haven't used lately. . . .so, all that to say, we watched race coverage from 2 p.m. until 10 p.m. No, I'm not kidding. We (or *I*) did. I'd do it again.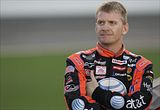 Oh, and did I mention that as soon as Caroline saw the race track, and heard the engines roaring, she said, "Go. . . . Jeff. . . Burton!" (that is MY girl!)
I did manage to make a really delicious dinner last night (was that good terminology, Tom?) and I'm happy to share my *recipe* with you. I made a turkey breast. It was the moistest turkey breast in the history of turkey breast making. Wanna know how I did it?
Two words: crock.pot.
That's right. . . you get that handy crockpot out, and put your turkey breast (bone in) down in it. You salt & pepper the meat, and then you cover it with a can of Campbell's Cream of Chicken soup (we used the reduced fat kind). Mark added about 1/4 can of water, to rinse out the can.
That's it.
Bake it for a loooooooooooooong time. When it's done, and you attempt to pull the meat out, the bones literally fall apart. Meat comes off in chunks. You take a little of the cooking juice and ladle it over the meat. You will be happy.
So, I guess that's it for this Monday morning. Nothing earth-shattering. I've justified the existence of NASCAR (like it was in question) and I've shared a time-saving, healthy, delicious dinner idea.
. . . and I got a song running through your head. Oh, did you forget? Let me remind you:
"Because love grows. . .where my Rosemary goes, and nobody knows. . . like me!"