Somewhere in Heaven. . . .
I talk to myself. Sometimes I argue with myself. I seldom give myself the silent treatment, but I do have verbal discussions, nonetheless. Here's one of the debates I often have with myself.
I am torn between two theories concerning the afterlife. I definitely believe in the afterlife--but I haven't decided if people that have died and are now in heaven can *see* what's going on here on earth. Here are my two conflicting thought processes.
1) They can. Proof? The story of the Rich Man and Lazarus from the Bible. There's definitely a conversation going on where the Rich Man has full knowledge of what's happening on earth. And of course, we've all been told that our loved ones are "watching over us" after they die. But is that true?
Because the other side of my brain says:
2) They cannot. There's no sadness in heaven. If a person who has gone on to "Glory" or "Iowa" or whatever you want to call it (Field of Dreams reference). . . how could they possibly see and experience what's going on here below?
There is a third line of thinking that I adopt from time to time, when I really do want to believe that my grandparents can see me, and my kids. My maternal grandfather was the only one to meet Edison. . .and Mark's Grammy is his only grandparent to meet our kid(s), so I think about this from time to time. Here's what I tell myself on days when I need to believe that they can see me. . .and my adorable kids:
They can see the current world -- but because they're seeing it from heaven's perspective, the sickness, sadness, and hurt doesn't matter. They know the end of the story -- they're living it out in the presence of God.
Shaky theology? Maybe. But on a day when I want to feel my grandparents' presence among me and my kids, it makes things a bit easier.
I'm not stirring up any type of theological debate. If I wanted to do that, I'd post this over on Beth's blog (ha ha!) and let Tony have a field day with it. I'm just thinking out loud -- on my keyboard.
Why today, of all days? Because of my broken dryer. That's right. My broken dryer brought me to this point of reminiscing today.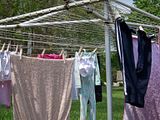 That's right. . . for the first time in nearly 19 years of marriage, I'm hanging clothes out to dry on the line. You'll notice that there are only clothes belonging to Caroline and towels. I'm not that brave.
Why the reminiscing? When I was a kid, I would spend a couple of weeks in Southern Indiana with my grandparents. I spent a majority of the time *in* Poseyville (yes, that's really the name) but a couple of days out of that time in Indiana was spent in Cynthiana. My mom's parents lived in Poseyville (who could make up that name, seriously). My dad's mom lived in Cynthiana. . .and Fort Branch in her later years.
When Grandma Knowles did her laundry (Cynthiana grandma) she hung the wash out on the line to dry. I would run through the sheets drying in the sunshine. And, at night, the sheets, pillowcases and blankets had
that outdoor smell.
If I'm not mistaken, there was a dryer in her house. . . but my grandma could save money in ways that you'd never imagine.
She saved the pickle juice for tuna salad.
She saved coffee from breakfast.
She drank the juice that was left over from the corn we had at dinner.
No, it wasn't moonshine. . .it was corn juice. And, if I'm honest, I believe I tried it a time or two, and it wasn't horrible.
But, she was thrifty. She had to be. She used those bath towels that came inside laundry detergent boxes. . . .dry detergent (for those of you significantly younger than me). And dude, let me tell you . . .we used those towels until you could read the newspaper through them.
I'd give anything to have one of those towels today -- just to hold. . .and remember.
I remember she always had grape kool-aid for us to drink--in those thin Tupperware tumblers. She wouldn't dream of soda pop in her house.
Now, Grandma and Poppa Heim? We got Mountain Dew at their house. Yep -- green bottles with the corncob-pipe-smokin' hillbilly on the bottle. Good times.
Enough memories -- back to reality. Back to today. As I hung the clothes on the line, I wondered if she could see me -- and if she was enjoying this as much as I was. Could she see Edison and Caroline playing ball? How about when they started drawing pictures on the sidewalk with chalk?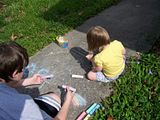 Could she hear their precious conversations? They're precious until Caroline gets aggressive, and suddenly you hear, "Caroline! Stop that! You're hurting me." It's hard to remember which one is 13 and which one is nearly 4.
As we walked through Caroline's early days, I often hoped and wished with all my heart that they could indeed see and know Caroline -- if from the distance of heaven. I wanted them to see how beautiful she was -- and is. I wanted them to be proud of Mark and me, as we raised her and dealt with those early days of her existence.
But then the other part of me wanted them to be spared from the sadness and anxiety of her open heart surgery. And, when I adopted the idea that they saw with "Heaven Vision," I knew that they knew it was all okay.
Listen -- there are times in our lives that we tell ourselves all sorts of things to get by. This was one of those times. Thankfully, we're four years on the other side of those days.
I laughed as I hung the clothes on the line today, because I wondered how many times Grandma Knowles hung clothes out -- only to see dark clouds on the horizon (just like me today). Of course, I decided that God was reminding me that He's always in control, and sometimes the dark clouds come when we least expect (and certainly don't wish for them.
So far, the rain has held off. And being the clothesline novice, I haven't the foggiest idea of how long clothes must remain on the line. Seeing as I started at 3:30 this afternoon, I may be moving a load of damp clothes into our bathrooms to dry the rest of the way. We'll see.
We're having the dryer looked at tomorrow. Hopefully, it will be an inexpensive fix. . .and a speedy one, too. But today, as I stood in the sunshine, I realized that this little experience was not only good for me, but for my pocketbook (and probably the earth, too). Now that I've made the investment in clothespins, I may do this again, throughout the summer.
We'll see. There really is something about soft, fluffy towels, straight out of the dryer!
Time to sign off. Oh. . while I was out, I took a few more pictures. Here is a little sampling of my "container" gardening.....