This the House that LOVE Built!
Well, "Tailgate" Sunday has come and gone. And, for what it was worth, it was amazing. What an awesome day to spend outside--basking in the beautiful (but HOT) weather. Enjoying clear, sunny skies, and an occasional breeze.
But it wasn't just about the weather. . . it was about
...worshipping outside, waiting for the sun to finish its journey into the sky
...listening to God's Word proclaimed so loudly you could hear it echo off the bank next door
...hearing our church family sing at the top of their lungs
...smelling five or six (I lost count) barbecue grills get started cooking burgers & dogs
...listening to dear friends sing while we ate lunch
...LUNCH? Well, that was just delicious!
...hearing the sound of thousands of nails being driven (Inside, it sounded like popcorn)
...looking down the long distance of the church parking lot, and seeing walls being built
...watching family members work together (old and young) on this mission
...the smell of freshly cut wood, and the "pillow" of sawdust under your feet
...the COLD refreshing water that was delivered by such wonderful people
...the pride watching both my children drive nails into someone's new house
...the jarring sensation as I drove a few nails myself
...a lesson in "hammer-holding" from my dad (a woodworker)
...the joy of seeing a 2-bedroom house (well, the walls) erected in our parking lot
...the unity of the entire church family laying hands on the house and praying
...the beeping of the Ryder truck, as it was full, and ready to go
...the warm water of our shower--cleaning off the grit & grime
...the pile of pillows under both my head and my feet
...the quiet of the house as the boys are out, and Caroline is napping
...the satisfaction in a HUGE undertaking being done
...the promise of a NASCAR race on tonight (postponed from Friday night)
...the confidence that many caffeine-free diet drinks are in the fridge

Oh? You wanted to see pictures? You got it. But, I'm not going to comment on them, except to say that yes, that IS Caroline nailing wood together for a wall.
And yes, that IS me bent over (tan shirt) nailing wall pieces together.
And yes, that IS Caroline helping me bake one of the desserts for the lunch.
And yes, my dear, sweet friend (HELEN) I did do a "frame in a frame" picture because of you! And yes, I WILL answer any other photo questions you might have.
But for now....I'll let the photos speak for themselves.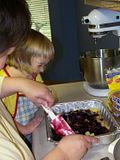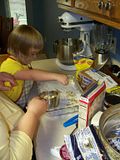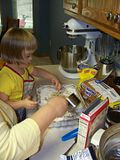 This is the Pioneer Woman's Dump Cake -- only I made it with a Butter Pecan cake mix, rather that the yellow cake mix. . .and we dotted it with sliced almonds. YUM!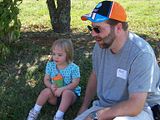 Caroline and Daddy, resting under the shade of a dogwood tree. Did I mention that it was HOT outside today? I did? Oh, allright.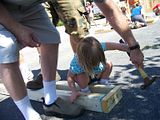 This is CAROLINE hammering in a nail into someone's new home. (Okay, her daddy is helping her, but still. . .) I am one proud mama!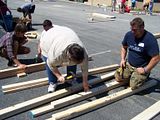 Yup, that's me.

And this is Kerrie. (Hi, Kerrie!)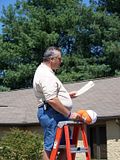 This is my boss -- Randy Penwell -- our lead pastor.
This whole thing was his idea. Pretty cool guy, I gotta say!
Rehearsal Saturday night.
Our group, "Surrender" sang a couple songs to entertain . . . or fill in empty time--you decide.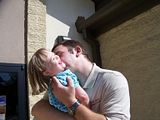 Caroline is loved by everyone at our church. Our children's minister seems to really have some affection for her, don't you think? She loves it. Every single bit.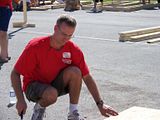 This is Barry -- "Baby James'" daddy. Seriously, in our house, it all revolves around Baby James, Baby Karson, and Baby Chloe.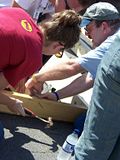 This is my Uncle Jeff, assisting someone. I think I knew who it was when I took the picture. But now. . . .yeah, that's not happening.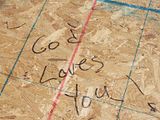 We were encouraged to write messages on the walls and framing of the house. That was a very powerful and moving thing to do. Of course, some of the middle school boys (not mine, thankfully) decided to promote one of our local businesses. I guess if these families have a recurring impulse to eat Buffalo Wings, there will be a plausible explanation.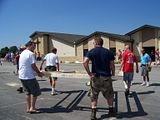 One of my "other" bands at church aptly named itself "Misty Sunrise." I guess I am "Misty." Yikes. Anyway, we all worked together on this wall. I am very proud of this wall, and as it was being taken to the truck, Justin (aka THUNDER) wrote something about "Misty Sunrise" on the walls. Again, if it has some sort of effect on the family, I guess we are responsible.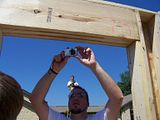 Helen, this one's for you. I remembered your framing challenge a few weeks ago -- and when the potential for this picture came about, I could NOT resist the urge to take the picture.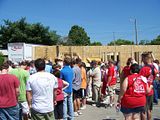 At the end of the day, we laid hands on the house and prayed a prayer of blessing and dedication on the houses themselves, and on the families who will receive them through our combined efforts with Habitat for Humanity.

And for the record. . . .you knew I couldn't resist from commenting on the individual pictures. I talk a big talk, but ya'll know me better than that! But you love me just the same. How can I ever repay your kindness??!!