Prizes, Pony Tails, Pork and Potatoes and Peanut Butter
Alliteration is a wonderful thing, is it not? I've decided to categorize this blog entry by topic. Should be lots of fun for my OCD friends. Of course, I will really make my OCD friends crazy, because things are not in alphabetical order. Oh well, they're chronological. Does that help? It doesn't? Oh well. Here goes nothing:
Prizes
Edison
did
in fact, get honorable mention at the Science Fair last week. We got a picture of him and his two friends from his class who won. I think the look of delight on Edison's face says it all, doesn't it?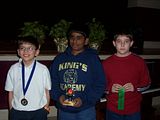 Pony Tails
While my friend Laura (RA) watched Caroline last week, she put her hair into a pony tail. I was noticeably impressed, because attempting even the humblest of bows for her hair usually sends her into fits. I loved it so much, we kept it on through lunch, nap, and on into the evening. I have plans to scrap a page entitled, "Pony Tails and PBJ"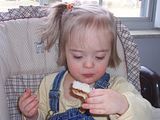 Pork and Potatoes
Last night, we had pork roast that I had cooked in the crock pot all day. Yes, my house
did indeed
smell heavenly. It was one of the easiest dinners I've made in a long time. Caroline loved dunking her pork roast and roasted potatoes in ketchup. (te-puh) I'm just amazed at how much she is growing up!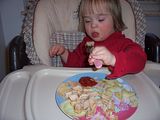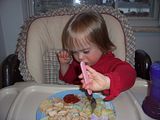 Peanut Butter
There is no substance on earth that means more to me! I love the stuff - and I need so very little of it. Yes, it is high in protein. But, it's also high in sodium, calories, sugar, and fat. And yes, I am aware of the existence of reduced fat peanut butter, or low sugar peanut butter. I've even purchased the "natural" peanut butter that separates in your fridge overnight. Love the taste and texture, but I'm the proud Mom of a "JIF" family. Extra crunchy for Mark and me; creamy for the kids.
One of the best things to do with peanut butter is make this cake. I promised the recipe. It follows the picture.
Peanut Butter Sheet Cake
(recipe from Betsy Edmond)
Boil until bubbling:
1/2 c. peanut butter
1/2 c. cooking oil
1 stick butter or margarine
1 c. water
Remove from heat - and add:
2 c. sugar
2 c. flour
1/2 c. milk
2 beaten eggs
1 t. baking soda
1 t. vanilla
Mix well. Pour into sheet pan (jelly roll). I usually spray with cooking spray - but there's lots of grease in it. Bake at 350 degrees for 20 minutes. Cool slightly. Then ice.
To make icing, boil together:
1/2 c. peanut butter
1 stick margarine
1/3 c. milk
Remove from heat. Add 1 lb. powdered sugar (3 1/2 cups) and 1 t. vanilla.
Mix icing well - no lumps. Ice cake. Store in refrigerator.
There you have it. . . .prizes, pony tails, pork and potatoes, and peanut butter. Procure, prepare, and partake!