What a SUPER Party!
John and Laura hosted a great party. I even won a couple prizes. Loads of great food - and lots of laughs. I am glad the Colts won. Would have loved for the Bears to win, too. But, I agreed to root with Edison.
. . .but returning the kickoff for a touchdown was suh-weet!
Here's a couple of layouts I got done while watching the end of the game, and all the shows that followed.
This layout is Edison from about 8 years ago.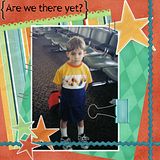 This layout is Caroline about a week ago. Fun.
Have a great Monday!!!