17 Years. . . .wow!
I still need to create a layout to go with this blog entry. . .but until I do, let me say that 17 years ago, I began the adventure of a lifetime with Mark. We were married in lovely University Park, Illinois, on Saturday, December 30, 1989. It was cold. There was ice. It was Chicago in December, ya'll.
It's hard to imagine that 17 years has gone by so quickly. But, when you start to add up the events that took place during those 17 years--factoring in joy and heartache--17 years seems to fly by.
Note: I know that Mark reads this, even though he professes to read very few blogs. Every once in a while, he'll surprise me with something that I know I haven't talked about anyplace but here. So, if you'll indulge me:
Mark, thank you for the most wonderful lifetime of love I could have imagined. When I think back to the days before I knew you, I just see emptiness. When I think of those first days/weeks/months that we knew each other, I was so sure that you were the one. Of course, you took a bit more time than me. But, you eventually came around to my way of thinking. . .and I am so glad you did.

You know,
love really is a circle. . . .
Thank you for two beautiful children. Thank you for loving and accepting us into your heart. Thank you for being a great dad, a terrific friend, and a gracious and loving husband. I could ask for no more--and wouldn't dream of it. I love you......Angie
Okay, thanks for allowing me that little indulgence.
To my family and friends--I pray that 2007 will be a blessed year for you. Thank you for blessing my life with your friendship.
And, to my newfound blog and digi-scrapping buddies. . .I am still in awe at these new friendships. Totally bizarre. Totally random. Totally blessed.
It's about time to get some munchies together for our official New Year's Eve Party here at home. We're staying in, and staying warm this year. Go Bears!
Before I sign out for the year (wow) here are a couple of Christmas layouts I have been able to accomplish with my spare time. Enjoy - and as always - thanks for looking!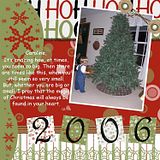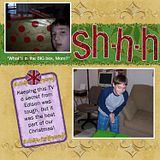 Happy New Year!!!
Edited: Here's a layout I created while waiting for the ball to drop. It's Mom & Dad at Dollywood the other day. . . using Melany's newly created kit. I'm so proud of you, Melany!!!