Reunited, and it felt not-so-bad, actually
Where did twenty years go?
It was an interesting assortment of 42 year olds that gathered at Poor Richard's Deli in Johnson City, TN. The room was better lit than 20 years ago, and the big-screen TV was showing CNN, rather than MTV. The menu has not changed. You can still get bagel with cream cheese, chili nachos, or the "General." The General is a hoagie with roast beef, turkey, and muenster cheese on dark bread with lettuce, spicy mustard, and mayo. (tomatoes are available-ick) I opted for the Reuben. I didn't like sauerkraut twenty years ago. What was I thinking?
Poor Richard's, or "PR's" as we called it, offers Maxine's sweet iced tea. I have never met a tea (herbal or otherwise) that I like, so I drank a Diet Pepsi (with one refill).
And yes, Melany, it did keep me up half the night.
The reviews were mixed. We enjoyed our impromptu gathering. But consesus was that the sweet tea left much to be desired. The sandwiches were okay - but certainly not what we remembered. But, our memories of PRs were just that--memories.
The remainder of the weekend consisted of small and large gatherings with the Milligan College Class of 1986.
I thought that Caroline would be the youngest child there. I was wrong. There were five children three and under--Carolyn and Tom's baby was just a couple weeks old. Whoa.
All in all, not bad for a bunch of 40-somethings. I was pleasantly surprised at our ability to age gracefully. Actually, with the exception of some leftover baby weight and receding hair lines, we looked pretty doggone awesome.
I promised my friend Roger that I would share any gossip or pictures that I discovered. I'm sorry--there wasn't much, Roger. Anything that's really worthy of sharing will be sent in an e-mail. Besides, most of it, you probably already know.
These pictures were taken Friday night at Poor Richard's.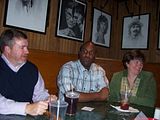 My advice: Don't avoid a class reunion. . .even if you have gained 50 pounds since college--ahem--it doesn't matter. You are surrounded by friends and family HERE and NOW that love you. Seeing these old friends (yes, I did say "old") is good for you. It's good for them.
It's just good.