Birthday Blessings. . .all around!
Well, we've officially concluded the birthday celebrations. The final one came in the form of Caroine's Mother's Day Out class singing "Happy Birthday" to her while they ate cookies.
According to her teacher, she enjoyed the singing, but she REALLY enjoyed the singing when she remembered/realized that it was in her honor.
Yesterday, as you know, I posted a long entry with pictures. That was followed up by a precious video made by my friend Beth -- and posted on her blog. It made me cry, of course. But you're more than welcome to view it. Click right
here.
Here are a few pictures of the past couple of days. Enjoy.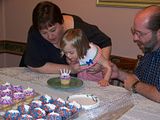 Caroline enjoyed blowing out the candles so much, she begged to do it again. Guess what we did? You're right. She blew them out again.



Caroline saw the swing set in the back yard--and immediately broke into a huge grin. Worth it? Absolutely.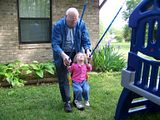 Of course, we had rain the next two days. Today was sunny. Today was a swing set day.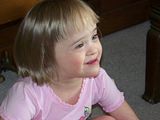 There's no way I can express how much this little girl has changed my life. Her daddy's too. In fact, I actually got a scrapbooking layout done tonight. It feels like it's been years since I've digi-scrapped. But, boy did it feel good!
Here you go. . . .